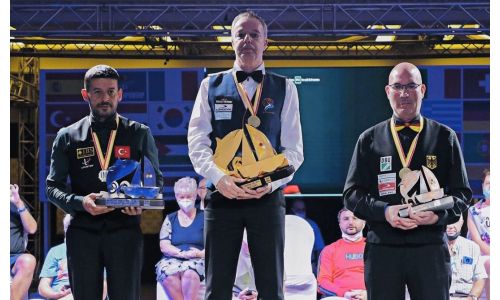 12/11/2021
In the 73° World Championship 3-Cushion Individual in Sharm El-Sheikh the Dutchman Dick Jaspers (56 years old) crowned himself World Champion for the fifth time in his life.
He conquered the title against the silver medalist Murat Naci Coklu from Turkey in a hearth-breaking match ended with a score of 50-47 in 32/31 innings.
Bronze medals were awarded to Martin Horn (Germany) and Marco Zanetti (Italy) who was unable to attend the closing ceremony due to a sudden family loss.
Both semifinals were tense and uncertain with victories by few points of Jaspers against Horn (50-45, 25 innings) and Coklu against Zanetti (50-47, 32/31 innings).
The supremacy of the European players in this edition of the WC also extended to the following positions from fifth to eighth: T. Tasdemir (Turkey), J. Bury (France), R. Legazpi (Spain) and Lee C.B. (South Korea), the only non-European player that reached quarter finals.
Best high run was achieved by Martin Horn (20), best general average by Tayfun Tasdemir (2,463), best match average: 50 points in 12 innings by Martin Horn (4,166).
Jaspers extends his lead on UMB ranking with 534 points, Zanetti maintains the second position with 371 points. Daniel Sanchez is third at 314. Coklu (from 17 to 7) and for Horn (12 to 8) gained a big step forward.
Pictures: courtesy Five&Six

Back