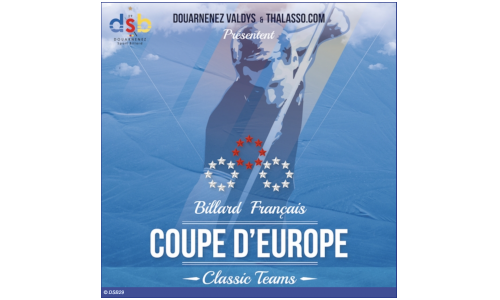 03/28/2019
From 29 – 31 March, the fans of the classic billiard disciplines can feast on world class matches, played in Douarnenez, France. The French team of the same name (Douarnenez Valdys) will defend their title in the Coupe d' Europe for classic teams. All matches can be followed on Kozoom.
The teams consist of three players, one competing in balkline 47/2, one in balkline 71/2 and one in 1-cushion. Matches in 47/2 are to 250 points, those in 71/2 to 200, and in 1-cushion to 120.
The French title holders have a strong line-up, with Gregory le Deventec, Pierre Soumagne and Dutchman Raymund Swertz. Their group is completed by Merklinde from Germany, with Pöther, Egber, Faus, Klein, Stecken and Chartres from France, with Gérimont, Justice, Gretillat, Henriksen, Girard, Pariot. Both French teams will meet each other first.
The other group consists of Bochum from Germany, with Havlik, Nockemann, Van Etten, Berger, Wiedemann, Kimmeskamp, Oissel from France (Petit, Martory, Deziles-Legros, Colle, Verel, Martory) and De Picardie from the Netherlands (Van Bochem, Bongers, Timmers, Tull).
Organization is in the hands of the FFB. Play starts at 16.00 on the 29th.
Results and free Live on www.kozoom.com

Back