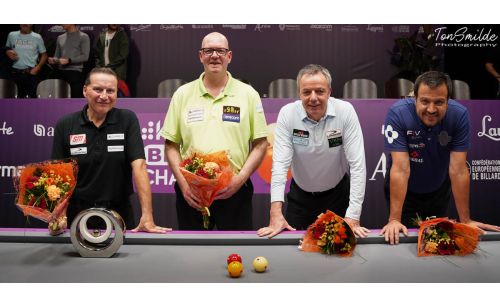 10/01/2022
Congratulations to Eddy Merckx (Belgium), winner of the second edition of the Kozoom Challenge Cup!
The exciting final round is just finished in the Espace Brémontier in Arès in Gironde, France. The format was a double KO.
The eight finalists, winners of the qualification groups were:
1 Dick Jaspers (Netherlands), world number 1. 14 sets, overall average 2.695
2 Lütfi Cenet (Turkey) No. 22 in the world, 11 sets, 1.541
3 Eddy Merckx (Belgium), No. 10 in the world, 10 sets, 1,838
4 Marco Zanetti (Italy), No. 3 in the world, 10 sets, 1,688
5 Peter Ceulemans (Belgium) No. 33 in the world, 8 sets, 1,817
6 Roland Forthomme (Belgium), no. 30 in the world, 8 sets, 1,675
7 Murat Naci Coklu (Turkey), no. 13 in the world, 7 sets, 1.658
8 Michael Nilsson (Sweden), No 24 in the world, 7 sets, 1,608.
The matches of the first round were as follows:
Jaspers-Nilsson
Zanetti-P.Ceulemans
Merckx-Forthomme
Cenet-Coklu
First winners were Jaspers, Ceulemans, Merckx and Cenet.
Jaspers and Cenet then won also their second match therefore reaching the semifinals directly.
Zanetti and Coklu losed two matches on a row and were the first to exit the competition losing their second match against Nilsson and Forthomme.
The remaining four had to fight through the double KO tree to get a chance to reach the semifinals. Merckx and Forthomme won the decisive matches against Nilsson and Ceulemans and gained a spot in the semifinals.
The semifinals:
Forthomme - Cenet 4-2
Merckx - Jaspers 4-0
The final was a thriller: Forthomme and Merckx fought until a 3-3 set score then Eddy Merckx won the last crucial set by 10-6 securing the victory.
Find the detailes results here.
Photo: Ton Smilde

Back