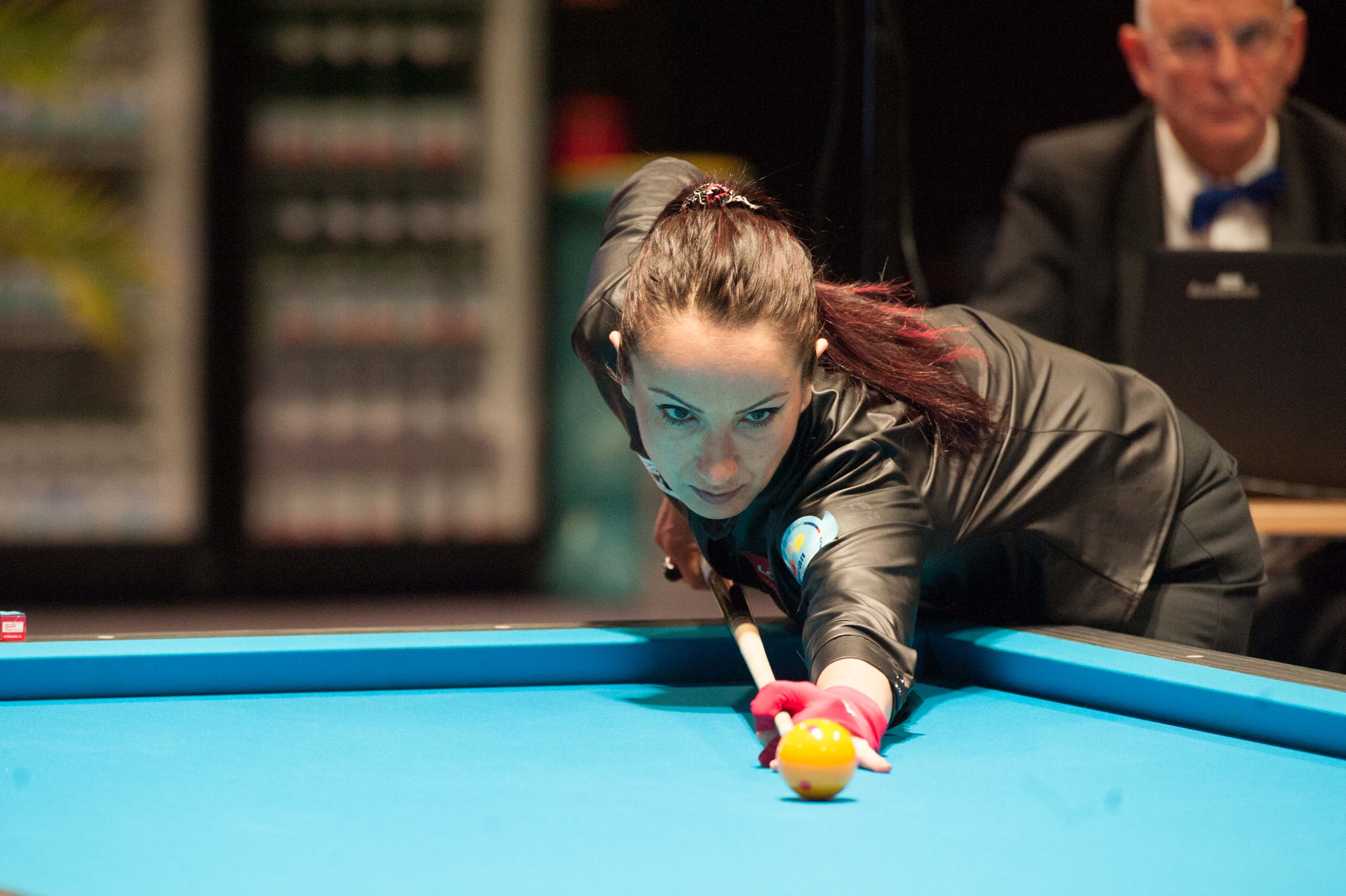 04/29/2017
This year's European Billiards Championships began today. Following 2013 and 2015 the City of Brandenburg an der Havel/Germany is the host of the continental championships for the third time in a row. Around 500 players from 20 nations are competing for 16 titles in the next nine days.
On Friday the first disciplines kicked off. The 3-Cushion-Event is one where many of the superstars of the sport are involved. While 16 players are already seeded for the single elimination stage, another 48 are divided in 16 groups to determine another 16 players for the final round.
Not all group matches are completed so far but a few participants for the next round have already been found. One of them is Semih Sayginer from Turkey who will have a chance for a good result here in Brandenburg. But before he could celebrate his first place in his group he had to survive a very difficult situation in the deciding match against Jean-Christophe Roux from France. Sayginer was down 25:28 and needed five points for the win. He played a very concentrated game in this part of the match and it was clear that it was time for him to play his best Billiards. He made the necessary points and will face one of the seeded players in Saturday's single elimination stage.
Also through to the next round are Javier Palazon (Spain) and Jean van Erp from the Netherlands whilst Arnim Kahofer from Austria has been eliminated by Palazon's team mate David Martinez.
The German hopes are in hand of Martin Horn and Dustin Jäschke. Both already won their first group matches. The youngster Jäschke played a brilliant first match with an average of 2,500 per inning.
The future 3-Cushions-Stars are competing in the Under 21-Event. 16 players in four groups fighting for spots in the quarter final. Tom Löwe from Germany did very well so far, he has already won two matches and is the only player to have an average of more than 1,000 per inning. Also his fellow countryman, Tobias Bouerdick, a former European Under 17 Champion, has made it to the second stage of the tournament. He finished second in his group, only Carlos Anguita from Spain was a little stronger than the player from the host nation.
You can follow the action live on www.kozoom.com. You can also check out http://www.germantour.net/karambol_em_brandenburg_2017_media_tool.asp?id=49
You will find the latest pictures along with reports in three languages. You can download the programme, the time table and much more. Results: http://competition.kozoom.com/en/home/3637/chain/2/

Back