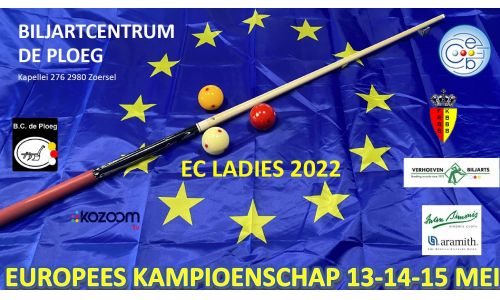 05/12/2022
Plenty of billiard is expected for this week-end. The European Championship 3-Cushion Ladies is just around the corner in the Biljartcentrum De Ploeg (Halle Zoersel, Belgium), under the auspices of the Belgian Federation.
On the four billiards in the Danielle Le Bruyn's cafe the competition is ready to start from tomorrow 13th to 15th. The Dutch champion Therese Klompenhouwer will defend her eighth title gained in Antalya back in February 2020. On the podium at that time also Karina Jetten (Netherlands), Estela Cardoso (Spain) and Jaimie Buelens (Belgium), all of them are here to show their best skills.
The field shows 23 sportswomen from 10 CEB Federation. After the qualification groups a knockout stage for 16 is planned.
The new CEB Youth and Women Director Eva Viding Bussell opened this European Championship.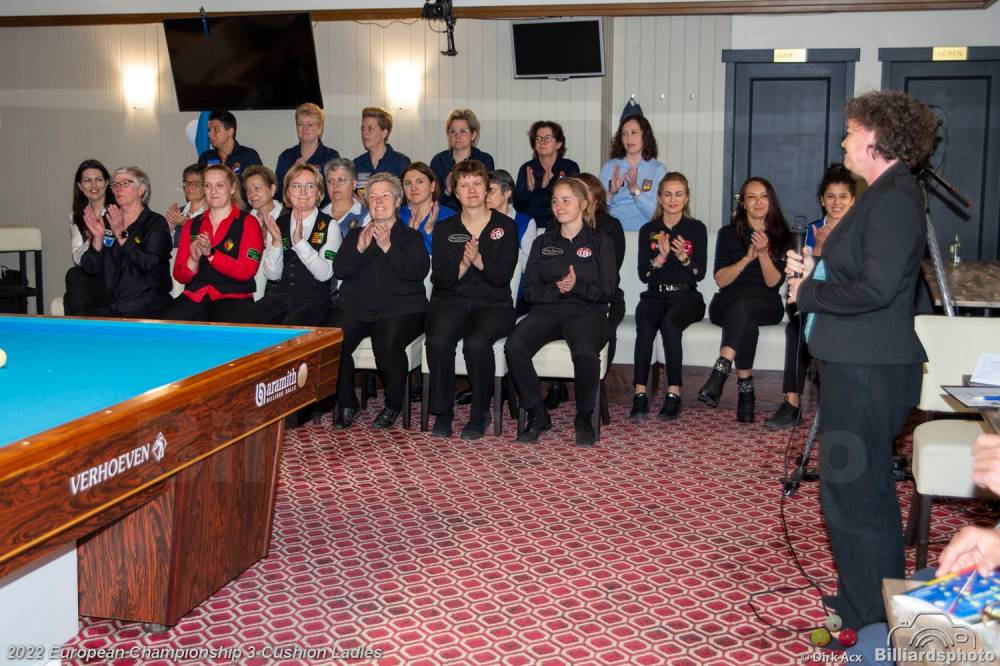 Group games are scheduled in the first day, last 16 and quarter finals on the second day and finally the semifinals and the final on the last day.
DAY 1:
The group games qualified today the 16 sportswomen for the final knockout stage.
The reigning champion Therese Klompenhouwer did not disappoint the expectations leading the ranking undefeated with a general avg of 1.111, the best match at 1.562 and an high run of 7. Two more well known Dutch players won their group and finished in second and third position, Karina Jetten and Mirjam Pruim. More group winners were Gulsen Degener in fourth position (Turkey), Jaimie Buelens from Belgium and Charlotte Soerensen from Denmark followed in fifth and sixth place, two French players were the last two group winners, Magali Declunder and Christine Morel.
The runner up were Estela Cardoso (Spain), Arzu Gok and Guzin Mujde Karakasli (Turkey), Irena Michalkova (Czech Republic), Martijn Joke (Netherlands), Monika Steinberger (Austria), Danielle Le Bruyn (Belgium) and Celine Jacques (France). The best run so far is the working of Martijn Joke (8).
Here are the last 16 matches and the scheduled time:
Klompenhouwer - Jacques 14:00
Morel - Cardoso 14:00
Buelens - Michalkova 14:00
Degener - Martijn 14:00
Pruim - Steinberger 16:00
Soerensen - Karakasli 16:00
Declunder - Gok 16:00
Jetten - Le Bruyn 16:00
DAY 2:
This day began with a sensational news. Therese Klompenhouwer sets two new European records in her last 16 match: an high run of 15 and a match average of 3,333 (30 points, 9 innings).
Cardoso, Michalkova and Degener also won their matches in the first round of eighth finals.
Gok, Jetten, Pruim ans Soerensen won their opponents in the second round of matches and move on to quarter finals.
Quarter finals:
Klompenhouwer - Cardoso: 30-24 (15/14 innings)
Degener - Michalkova: 30-26 (52 innings)
Soerensen - Pruim: 30-29 (73/72 innings)
Jetten - Gok: 30-21 (51/50 innings)
Semifinals are scheduled tomorrow Sunday 15th May:
h 10.30: Klompenhouwer - Degener
h 12.30: Soerensen - Jetten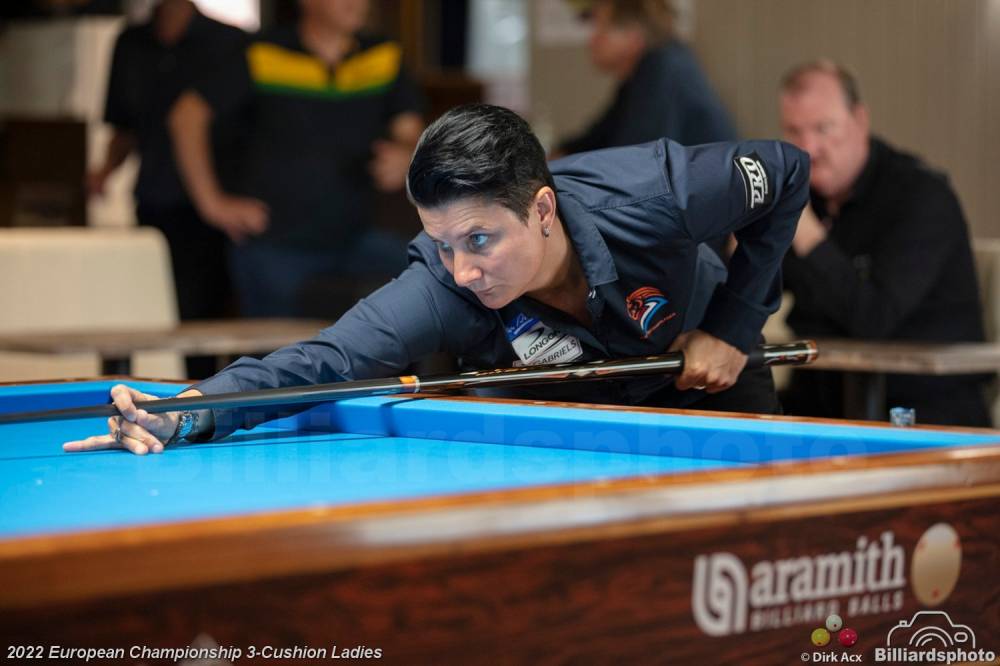 Kozoom
is broadcasting the event live.
Follow the results here
Follow us on Facebook

Back