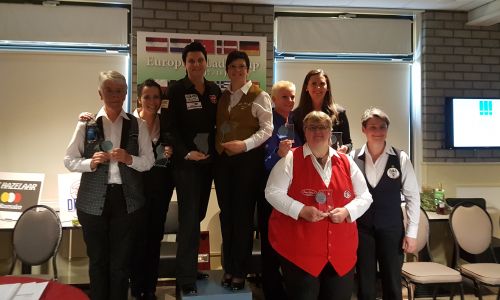 06/13/2017
ROSMALEN - The southern Dutch city of Rosmalen has become one of the billiard hotspots in the country, hosting both national and international events. From 16 - 18 June, the tables in De Hazelaar will be reserved for the European Ladies Cup, a two-headed tournament with both 3-cushion and free game prizes to be won.
In the 3-cushion discipline, 16 ladies from 10 different countries will compete. The free game event is a bit smaller, with 8 participants. Number one seed in the 3-cushion event is the world's leading player, Therese Klompenhouwer from Nijkerk.
The Dutch federation, the KNBB will be responsible for the organization, with Henny Wezenbeek and Rinus Persoons as the sports directors.
The eight ladies in the free game tournament are split up into two groups of four. They will play to 120 points in the group stage, then to 150 points in the K.O. stage. The three-cushion event, with all the European top players present, starts in four groups of four and matches to 25 points. The finals will be played to 30 points.
There is a first prize of 400 euros in both disciplines. The losing finalist will receive 300, and the losers in the semi finals win 200 euros.
The participants are:
Three cushion:

Therese Klompenhouwer
Gülsen Degener
Marianne Mortensen
Jaimie Buelens
Irena Hambalkova
Helga Mitterböck
Estela Cardoso
Savvina Skolarikou
Céline Jacques
Steffi Daske
Mirjam Pruim-Emmens
Daisy Werdekker
Karina Jetten
Aysegul Fendi
Jeannette Jensen
Danielle le Bruyn.

Free game:

Christel Willemse
Véronique Ales
Chantal Casanova
Francien van Yperen
Karolien Matthys
Heike Hingerle
Marieke Jonkergouw-Mulders
Aurore Bellens

Back