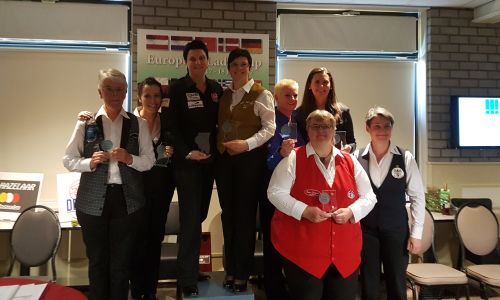 06/19/2017
ROSMALEN - She lost her world title recently, but that has not affected her spirit. Therese Klompenhouwer is still one of the best female players in the world, and she proved it during the European Ladies Cup in Rosmalen this week.
At this CEB event, there was no competition from Japanese or Korean players, so Klompenhouwer dealt with familiar faces. Surprisingly, the experienced ladies (Degener, Le Bruyn, Jetten) could not make an impression, and younger candidates made it to the semifinals: Spanish Estela Cardoso and German Steffi Daske. In the end, they were no match for Klompenhouwer. ,,I am happy that I could again win a major tournament, so soon after my lost WC.', said Therese.
In the final, the European champion beat 32-year old Estela Cardoso from Madrid, 30-18 in 26 innings. The match was all square at 12-12, but then Therese took the upper hand. Karolien Matthys was in a class of her own in the free game event. The Belgian lady, who runs a butcher shop with her husband, beat Christel Willemse from the Netherlands in the final: 150 - 50 in 7 innings.
The 3-cushion event took place on the regulation billiards (142 x 284), the free game was played on 115 x 230 tables. ,,I an used to playing on the large tables, so the 230's make the game seem easier'', said Karolien Matthys about her dominance. The Belgian, runner-up in the European championship three years ago, won her last three matches in 3,3 and 7 innings, recording magnificent runs of 142, 120 and 105.
Therese Klompenhouwer lost once on the way to the title: in the group stage against Danielle Le Bruyn. Her Belgian opponent could not advance out of the group, but still produced one of the highlights of her career. The billiard room owner beat Klompenhouwer, running eleven to the finish. Therese: ,,I needed five in the equalizing inning, but only made three and missed a bank shot.'' In her other matches, the killer from Nijkerk was not threatened. Her grand average of 0.942 was in another league entirely, compared to the rest of the field. Estela Cardoso had 0.610, Steffi Daske 0.481, Jeannette Jensen, the fourth semifinalist 0.422.
,,I did not play particularly well, but in the last matches I did feel strong enough to beat anybody'', said Klompenhouwer. In the quarters, she beat Irene Hambalkova from the Czeck Republic, 30-11 in 33, in the semi she cruised past Steffi Daske, 30-8 in 35, and the final took 26 innings: 30-18.
Estela Cardoso, a data analyst, is one of the new stars of women's 3-cushion. The single Spanish lady from Murcia, moved to Madrid two years ago, has no palmares yet. ,,I have played in the WC in Sinop five years ago, and a tournament in Valencia before that'', she said after the award ceremony in De Hazelaar. Estela practices and plays at Escuela Madrid. ,,I have been able to put more practice time in since I moved to Madrid, but I don't have a coach. Josibe Escribano is my teacher, but he lives in Bilbao. All he can do is help me over the phone.''
Therese Klompenhouwer: ,,I expect a lot from her, especially if she can make progress by practice. She has a fine stroke and a good mentality. Steffi Daske too, a young German player, could go much further. The seasoned players, like Degener, Jetten and Le Bruyn, could not shine this week, and the younger generation took full advantage.''
Karolien Matthys did not have much competition in the free game event. The Belgian recorded a grand average of 17.84, miles above her opponents. Christel Willemse had 7.47, Heike Hingerl 7.22, Francine van Yperen 2.98.

Final rankings:
Three cushion:

1 Therese Klompenhouwer (Netherlands) 0.942-9
2 Estela Cardoso (Spain) 0.610-4
3 Steffi Daske (Germany) 0.481-7
4 Jeannette Jensen (Denmark) 0.422-4
5 Aysegul Fendi (Turkey) 0.503-4
6 Jaimie Buelens (Belgium) 0.487-4
7 Mirjam Pruim-Emmens (Netherlands) 0.431-3
8 Irene Hambalkova (Czeck Republic) 0.411-4
9 Karina Jetten (Nederland) 0.568-6
10 Gülsen Degener (Turkey) 0.483-6
11 Danielle le Bruyn (Belgium) 0.591-11
12 Daisy Werdekker (Netherlands) 0450-2
13 Marianne Mortensen (Denmark) 0.446-3
14 Savvina Aggeliki Skolarikou (Greece) 0.432-3
15 Helga Mitterbock (Austria) 0.366-3
16 Céline Jacques (France) 0.439-4.

Free game:

1 Karolien Matthys (Belgium) 17.84-142
2 Christel Willemse (Netherlands) 7.47-70
3 Heike Hingerl (Austria) 7.22-44
4 Francine van Yperen (Netherlands) 2.98-28
5 Marieke Jonkergouw-Mulders (Netherlands) 5.07-33
6 Véronique Ales (France) 3.28-26
7 Aurore Bellens (France) 5.16-27
8 Chantal Casanova (France) 2.76-16.

Back