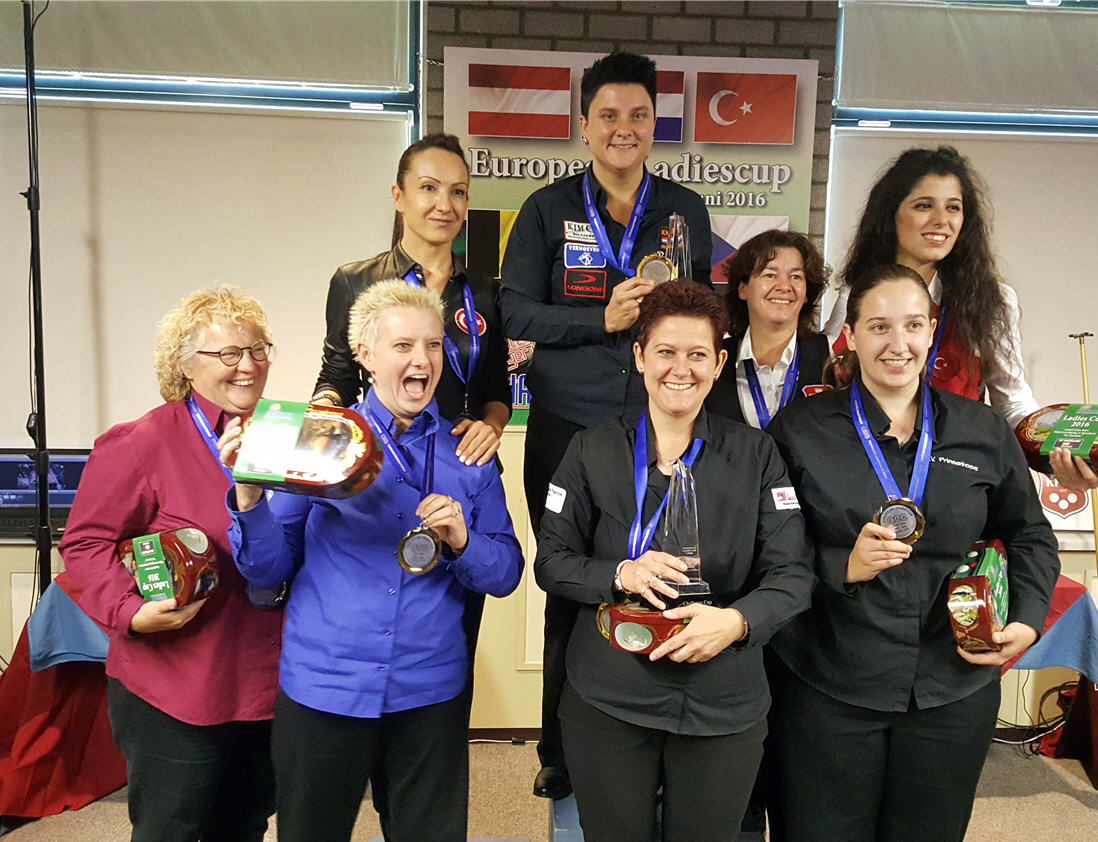 06/21/2016
This week-end the first European Ladies Cup took place in the beautiful club De Hazelaar in Rosmalen (NL). 3 cushion with 16 Ladies and Free Game with 8 Ladies.
Without surprise, Therese Klompenhouwer (NL) has won the the Ladies Cup 3 cushion against Gülsen Degener (TUR) with a very good general average of 1.107.
In the semi-finals, Gülsen has eliminated her compatriot Karakasli Guzin Mujde in a match with suspense until the last inning and Karina Jetten (NL) could not keep the tempo imposed by Therese. In the final, Therese made a fast start to lead 29-11 in 14 innings. Gülsen despite a good level could not do anything to stop the Dutch 3 cushion star.
Mirjam Pruim-Emmens (NL) won the Ladies Cup in the free game. In the final she defeated her compatriot Monique van Exter 126-62 in 15 innings.
Very nice atmosphere, many spectators and excellent organization for this new competition.
Thanks to BV Hazelaar for organizing this great event. We look forward to next year !
Podium European Ladies Cup 3 cushion
1. Therese Klompenhouwer (NL)
2. Gülsen Degener (TUR)
3. Karina Jetten (NL) / Karakasli Guzin Mujde (TUR)
Podium European Ladies Cup Free Game
1. Mirjam Pruim-Emmens (NL)
2. Monique van Exter (NL)
3. Daisy Werdekker (NL) / Francine van Yperen (NL)

Back