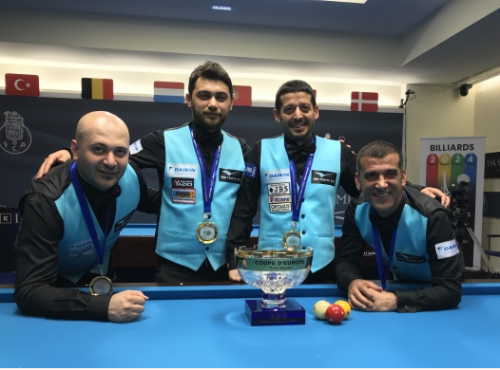 06/11/2018
After a long week in the Estadio Do Dragao, the Turkish foursome of Tekstil BSK were crowned the new European team champions. Tayfun Tasdemir, Murat Naci Coklu, Can Capak and Gokhan Salman were the strongest team on a final day with four teams left, and each of those had an honest chance of winning the event.
The surprising opponent of the Turks in the final was SIS Schoonmaak from The Hague, Netherlands. Tekstil's players had higher rankings, two of the Turks are World Cup winners no less, so SIS played the final as the underdog. But they put up a brave fight, it must be said. Gokhan Salman started well but could not shake off his opponent Jeffrey Jorissen, who finished first: 40-32 in 22. That win was neutralized by Can Capak's superior win over Raimond Burgman, who had been the best player for SIS all week. In this match, he could not score and Capak was ruthless: 40-13 in 15. Coklu sealed the deal for the Turks with a quality win over Jean van Erp: 40-20 in 21. The match between Glenn Hofman and Tayfun Tasdemir was no longer relevant, even if Hofman had a 38-29 lead.
Photo: @Kozoom
The semifinals were more tense than the final. FC Porto, the host and title holder saw Dani Sánchez make a great comeback against Tasdemir, from 21-2 to 37-37. But the Spaniard could not make the last point, and he lost 40-39 in 16. Coklu had no chance against Jaspers (40-21 in 14), and Costa lost to Capak (40-33 in 24). The decision had to come from the match between Salman and Ferreira. The Turk needed one point in the equalizing inning, and he coolly made it.
SIS took on the strong Danes, who had made such a strong impression all week. Carlsen beat Jorissen and Nelin beat Hofman (40-34 in 37, 40-37 in 24), but the other two matches went to the Netherlands. Van Erp was too strong for Haack-Sörensen (40-24 in 26) and Raimond Burgman played a superb match against Brian Knudsen: 40 – 25 in 16. The Dutch advanced, based on points made.
During the award ceremony, FC Porto announced it will organize this great European event in 2019 as well.
Final ranking:
FBN Tekstil BSK (Turkey)
SIS Schoonmaak (Netherlands)
FC Porto (Portugal)
BK Gröndal (Denmark)
L&B Ledermode (Netherlands
AS Laxovienne (France)
Mecidiyeköy (Turkey)
CB Paiporta (Spain)
Best match: Tayfun Tasdemir: 40 in 11, 3.636
High run: Tayfun Tasdemir: 16.

Back