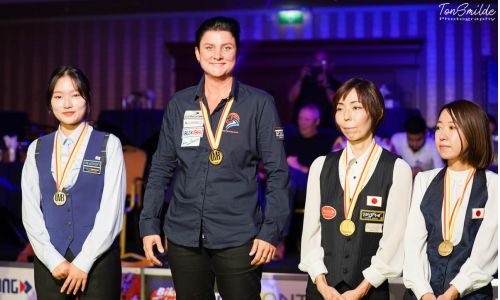 09/22/2022
Therese Klompenhouwer wins her fifth World gold this afternoon in Heerhugowaard (The Netherlands) in front of his own fans. She set up a record of world gold medals winnig five times out of 10 editions of this World Championship.
The final ended with a score of 30 to 16 in 22 innings against the young Korean Ji Eun Han that got the silver medal.
The Dutch Queen of 3-cushion dominated the tournament and was never in a real danger of losing a single match.
In the whole tournament Therese scored 170 points in 122 innings (1.393), her highest run of 8 was achieved in the first innings of the final. A step over any other female player in the world.
The podium is completed with two Japanese: Y. Nishimoto and N. Fukao.
The ranking from 5th to 8th position shows four European players eliminated in the quarter finals: Karina Jetten (Netherlands), Charlotte Soerensen (Denmark), Estela Cardoso (Spain) and Jaimie Buelens (Belgium) who made the best run of the tournament (9).
Marianne Mortensen (Denmark), Magali Declunder (France), Irena Michalkova (Czech Republic), Mirjam Pruim (Netherlands) ranked 9 to 16 place.
Natascha Al Mamar (Austria), Katja Titze (Germany), Daisy Werdekker (Netherlands) and Arzu Gok (Turkey) did not survive the qualification rounds.
Photos: Ton Smilde

Back