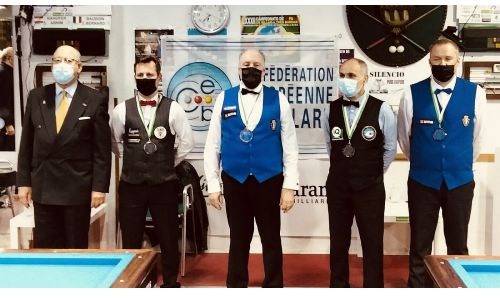 03/27/2022
The European Championship 1-Cushion is just finished in the Club Billar Paiporta.
Bernard Baudoin, also known as the main sponsor of Kozoom, shown a flawless tournament and rushed to the gold medal.
The silver medal was awarded to Arnim Kahofer from Austria, author of an excellent performance.
The bronze medals went to the two semifinal losers: Xavier Leroy (France) and Nikolaos Gerassimopoulos playing for Greece.
The Frenchman prevailed on some of the favorites players for the final victory like Dave Christiani, title holder, in the qualification groups, Johann Petit in quarter final, Xavier Leroy in the semifinal, and finally Arnim Kahofer in the final match. Other favorites like Raul Cuenca, Sven Daske and Alain Remond were surprisingly eliminated in the preliminary rounds.
Arnim Kahofer was in the first place after the qualification rounds and was the better of Marek Faus in quarter finals and Gerassimopoulos in semifinals.
The complete list of last 8 players in quarter finals:
1- Kahofer
2- Leroy
3- Baudoin
4- Gerassimopoulos
5- Gerimont
6- Petit
7- Espinasa
8- Faus
Final 8 best positions:
1st Place - Bernard Baudoin
2nd Place - Arnim Kahofer
3rd places - Xavier Leroy - Nikolaos Gerassimopoulos
5th - 8th - Willy Gerimont, Johann Petit, Joan Espinasa, Marek Faus
Find out all detailed results here.

Back