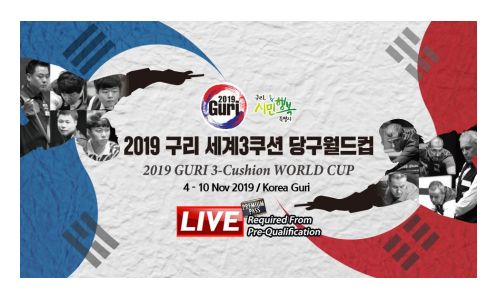 11/01/2019
The sixth World Cup in the 2019 series will take place about an hour from Seoul: the Guri tournament will kick off on 4 November. The final matches will be played on the 10th.
As usual, fourteen players have been seeded in this event: Jaspers, Zanetti, Tasdemir, Sayginer, Merckx, J.H. Cho, Q.C. Tran, Sidhom, Coklu, Bury, H.J. Kim, Horn, J.H. Heo and Blomdahl. The UMB wild card was given to Pedro Gonzalez from Colombia, the local wildcards went to Myung Woo Cho and Jung Pyo Hong. In the qualification field, the Vietnamese even outnumber the Koreans: no fewer than 39 players from Vietnam will take the trip. The Turks also have a strong delegation, with Capak, Cenet, Kiraz, Alp, Goren, Orak, Salman and Degener as the best-known names that follow in Sayginer, Tasdemir and Coklu's footsteps.
Guri 2019 will be the 17th World Cup hosted by South Korea, the 5th in Guri. The World Cup played in that city in 2015 still has the highest general average for the last 32 players: 1.787. We expect the early rounds to be strong as usual, given the broad and deep quality of Korean billiards.
There have been five different winners so far in 2019: Tasdemir, Caudron, Palazon, Jaspers and H.J. Kim. Only two World Cups to go, and the race for the overall 2019 championship is wide open.
First prize in Guri is 16.000 Euro, there's 10.000 for the runner-up.
All matches will be played on Hollywood Billiards, Simonis 300 Prestige Blue cloth, with Super Aramith Pro Cup Prestige balls. Kozoom will stream the entire event.

Back