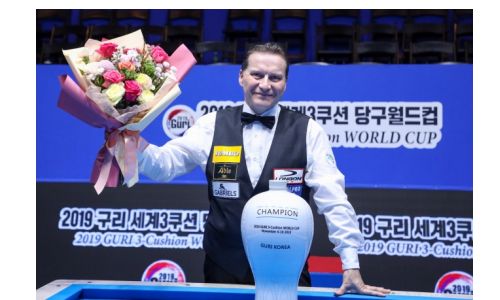 11/10/2019
There's strength in numbers for the Asians. More and more Korean and Vietnamese players survive the early rounds in world cups. But on the final day, it's usually Europeans that decide about the medals. Haeng Jik Kim may have won in Veghel, but the other world cups of 2019 were Turkish, Belgian, Spanish, Dutch and again Belgian property.
Three Europeans and one Asian made it to the final day in Guri, and there was an unsurprising result: Eddy Merckx won the last two matches and the tournament. It is by now an established fact, that once the modest Belgian reaches a final, he is almost impossible to beat. Twelve finals, eleven wins, it is an astonishing record that will be as tough to break as his legendary world record match of 50 in 6.
Jeremy Bury, who had played an excellent tournament, could only watch as Merckx dominated their final from start to finish. The 40-16 in 16 inning result said it all: a one-way street. The Frenchman had been punched so hard that he missed the break shot in the equalizing inning.
As in Veghel, where Antonio Montes had surprised the elite with a place in the semi's, Guri had a newcomer on the last day: Jun Tae Kim. The 24-year-old impressed with wins over Nikos Polychronopoulos and Sung Won Choi.
Tayfun Tasdemir started on Sunday with the role of tournament favorite, as a result of his wonderful play on Friday and Saturday. He ran a 19 and a 20 and looked on his way to a third World Cup victory. Bury, in his best match of the 2019 season, crushed that ambition in only 15 innings: 20-40.
Eddy Merckx has had a shining 2019 so far. He won the Verhoeven Open and the Survival event in Seoul, climbs to the 2nd place on the world ranking after Guri, and shares the lead for the overall world cup with Tayfun Tasdemir. The Belgian will be confident in his next events: the Lausanne Billiard Masters, the World Championship in Randers and the last World Cup in Egypt.
Final ranking:
Merckx 2.044 – 14
Bury 1.640 – 12
Tasdemir 2.018 – 20
Kim 1.331 – 10
Tran 1.843 – 11
Sánchez 1.778 – 11
Choi 1.560 – 10
Heo 1.767 – 11
The new world ranking:
Jaspers
Merckx
H.J. Kim
Zanetti
Bury
Caudron (sus)
Tasdemir
Q.C. Tran
Sayginer
Sidhom

Back