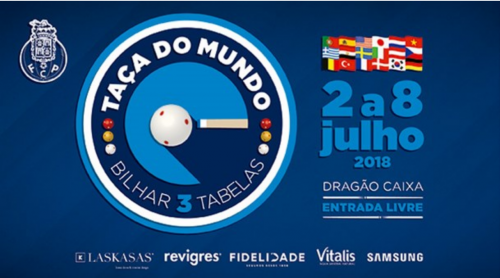 06/29/2018
From 2 – 8 July, the fourth World Cup of 2018 will take place in Porto, Portugal, a city that has already seen such high-quality 3-cushion this year. You may remember, the European Championship for club teams recently took place there and the Turks of FBN Tekstil BSK were triumphant.
This time, it's an individual tournament, and Porto traditionally gives us a win by one of the greats in the game. To refresh your memory: Haeng Jik Kim (2017), Caudron (2016), Blomdahl (2015) and Jaspers (2014) won the event in recent years. The three previous World Cups in 2018 have been won by Caudron (Antalya), Quyet Chien Tran (Ho Chi Minh City) and Jaspers (Blankenberge.
The UMB has seeded the following players for the Portuguese World Cup: Caudron, Merckx, Zanetti, Haeng Jik Kim, Sánchez, Jaspers, Blomdahl, Jae Ho Cho, Coklu, Sidhom, Sung Won Choi, Jung Han Heo, Polychronopoulos and Bury. The wildcards have been given to Riad Nady (UMB) and Myung Woo Cho, Rui Manuel Costa (local). As usual in Porto, the tables will be supplied by Carrinho, the cloth by Iwan Simonis and the ball will be Super Aramith Pro Cup. The venue is the PAVILLON DRAGON CALXA in Porto.
The qualification tournament is fully booked, with Turkey, Vietnam and Korea as major contributors. A few names we don't see in every World Cup: Hugo Patino, the 3-time USA champion, Peter Ceulemans, who recently impressed with a 2,500-average win over Caudron, David Pennör, the new Swedish champion, Filipos Kasidokostas, building a second career with switched hands, and David Zapata Garcia, who is forever out of anonymity after his performance in Blankenberge.
This will be the 15th World Cup to be hosted by the Portuguese federation. On a total of 174 World Cups held since 1986, you have to say that this Iberian country can be proud of its organizing efforts.

Back