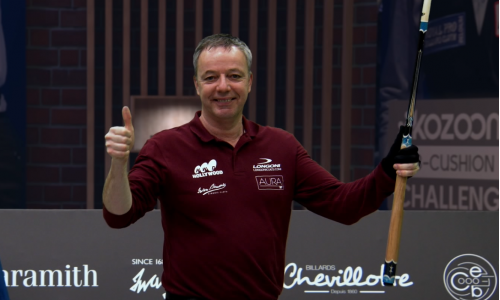 03/20/2021
It was a complete Jaspers show in the Group A match of the Kozoom 3-Cushion Challenge Cup that took place on 17, 18 and 19 March 2021.
The outcome of the last day in the Kozoom Challenge was not surprising to anyone. Dick Jaspers became the second player after Rubén Legazpi to qualify for the finals of the tournament in Andernos Les Bains. The Dutchman maintained his position as the comfortable leader on the last of three days in the match with Peter Ceulemans and Rui Manuel Costa.

Jaspers' lead was extended on the last day with five winning sets from eight matches. That brought him to 16 sets won over three days with an average of 1.814 and a high run of 7. The pursuers stayed at a respectable distance: Peter Ceulemans was the runner-up with 5 sets and 1.252 average, Rui Costa won 3 sets in total out of 24, exactly 1.000 average and just like Ceulemans, a high run of 8.

In other news, the other three groups have been moved to a later time. The group with Eddy Merckx, Tayfun Tasdemir and Maxime Panaia has been moved to 5, 6 and 7 May. The group with Murat Naci Coklu, Dion Nelin and Jérôme Barbeillon has been moved to 15, 16 and 17 May. The group with Torbjörn Blomdahl, Lütfi Cenet and Gwendal Maréchal plays on 19, 20 and 21 May.
Final standings in Group A:
1) Dick Jaspers 16-205-113-1, 814-7
2) Peter Ceulemans 5-134-107-1.252-8
3) Rui Costa 3-107-107-1.000-8

Back