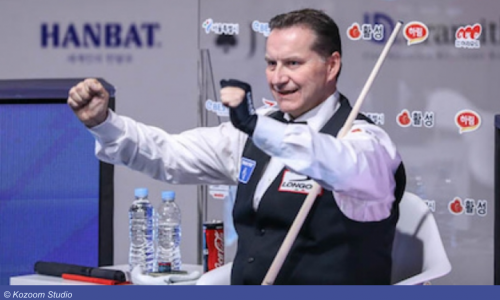 11/19/2018
One of the hardest things to do in modern 3-cushion, is beat Eddy Merckx. The Belgian world record holder (50 in 6) has these tournaments where he is simply invincible, no matter how kind or cruel the balls run for him. It was one of those weeks in Seoul, where the Belgian won the sixth World Cup of the 2018 season, the tenth in his career. In the final, he beat Greece's Filippos Kasidokostas: 40-19 in 19.
For a few days, this was the week of Kim Bong Chul, the fairly unknown Korean player who outlasted all his famous countrymen. With wins over Blomdahl, de Bruijn and Nguyen he played the tournament of his life until he was outclassed by an inspired Kasidokostas, who beat him 40-16 in 17.
Then it became the week of Filippos Kasidokostas, who had been away from World Cups for a while. The Greek had long suffered from a tremor in his right arm, could not get it under control and decided to make a comeback playing "leftie". Maybe he himself was the only one who believed he could return to his former level, playing with his other hand, but he did it. His place in the final proves he's a force again, and it is an amazing feat of willpower and skill.
But once all the excitement about Kim and Kasi had died down, it was Eddy Merckx who had the last laugh. He successively beat Piedrabuena (40-26 in 20), Kim Jae Guen (40-16 in 15), Leppens (40-36 in 27), Jaspers (40-34 in 19) and finally Kasidokostas. It gave the quiet but strong-willed Belgian an average of exactly 2.000 over the event.
The high run in Seoul was made by 20-year old Cho Myung Woo, who ran 24 against Murat Coklu. It equaled the World Cup record for high run, held by Jeremy Bury. Cho even got past Semih Sayginer in an exciting match, but was ultimately stopped by Marco Zanetti in the round of 16.
Frédéric Caudron was out in the first round (against Seo Hyun Min) but he will still win the overall World Cup for 2018. After victories in Antalya and Porto, his lead was comfortable. Caudron also holds on to the first spot on the world ranking.
Final ranking of Seoul:
1. Eddy Merckx 2.000 – 10
2. Filippos Kasidokostas 2.057 – 18
3. Dick Jaspers 1.949 – 12
4. Kim Bong Chul 1.888 – 13
5. Nguyen Quoc Nguyen 2.382 – 11
6. Marco Zanetti 1.950 – 8
7. Robinson Morales 1.476 – 9
8. Eddy Leppens 1.468 – 19
The new world ranking:
Caudron
Jaspers
Merckx
Zanetti
Sayginer
Tran
Cho, J.H.
Heo, J.H.

Back