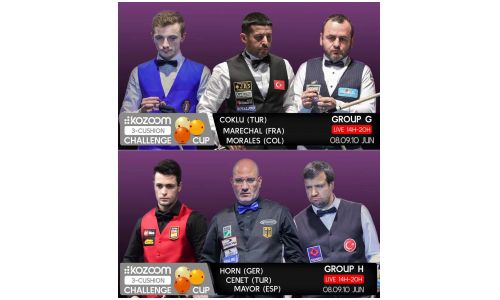 06/07/2022
Last two groups of the Kozoom 3C Challenge Cup 2022 are on stage starting from tomorrow until June 10th: groups G and H.
Group G: Murat Naci Coklu, Gwendal Marechal, Robinson Morales.
Group H: Martin Horn, Lufti Cenet, Ivan Mayor.
Murat Naci Coklu is the winner in group G. The score at the end of the 18 regular sets was a draw with Coklu and Morales at 7 and Marechal at 4. A decider extra set was played and Coklu won it by 10-5 getting his ticket for the final round.
Lufti Cenet takes the first position in group H. Today he won 5 out of the 6 sets available leaving no chance to his competitiors. Martin Horn is second with 5 sets. Ivan Mayor 2.
With this last two groups the field for the final round is completed. Coklu and Cenet join Dick Jaspers, Eddy Merckx, Marco Zanetti, Peter Ceulemans, Roland Forthomme and Michael Nilsson in the last 8.
Games starting daily at 14:00. Six sets are playing each day for each group.
Follow it live on Kozoom
More infos here

Back