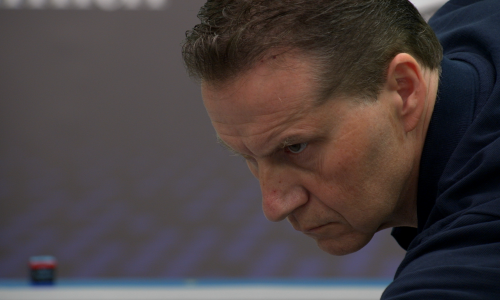 05/08/2021
What an exciting 3 days we've had!
Eddy Merckx was by far the best player in the group H of the Kozoom 3C Challenge Cup, leaving no chance to the two opponents: the young Maxime Panaia from France and Dave Christiani from Netherlands.
The Dutchman himself admitted that he was not at his best, making too many mistakes while the young Frenchman missed some chances to win a couple of more sets but he has the right age and he showed the talent needed for a future development.
Eddy Merckx (19 sets won) is the third group winner to gain a ticket for the final round to be played in September, after Ruben Legazpi (13 sets won) and Dick Jaspers (16 sets won).
A very interesting session of Q&A with the well known commentator Torbjörn Blomdahl entertained the audience on the third day.
Final score and general avg: Merckx 19 (1,813), Christiani 4 (0,990), Panaia 1 (0,972)

Back