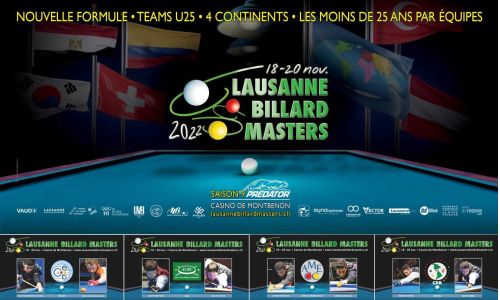 11/17/2022
Lausanne Billard Masters 2022.
The 2022 edition of the prestigious tournament sanctioned by UMB is going to start in the casino of Montbenon, Lausanne, tomorrow November 18th in a brand new format.
Four teams by 2 players under the age of 25 representing the four continental Confederation of Europe, Asia, America and Africa/Middle East will clash for the victory.
Matches are to 50 points: a relay to 30 points and a scotch double to 20 points.
Muhemmed Mustafa Kilic (Turkey) and Nikolaus Kogelbauer (Austria) will defend CEB colors.
Find out all news and details on:
UMB Website
LBM Website
LBM Facebook page
Live and results.

Back