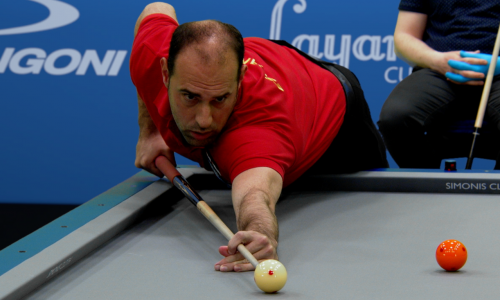 03/12/2021
Round 1 of the Kozoom 3-Cushion Challenge Cup is off to a good start!
Spanish player Rubén Legazpi and two French opponents Mikaël Devogelaere and Nathan Duriez kicked off the Kozoom 3-Cushion Challenge Cup this Tuesday (9 March). The tournament, organised by the European Confederation CEB and Kozoom, of which the finals are to be played on the 16, 17, 18, 19, September 2021, has a total line-up of 24 CEB players. The world's best from the UMB Rankings such as Dick Jaspers, Marco Zanetti, Torbjörn Blomdahl, Eddy Merckx and Tayfun Tasdemir, among others, are in the line-up, including the Women's World Champion Therese Klompenhouwer. The group stages will go on for a total of 24 days, each time with groups of three players, of which the 8 winners qualify for the final. The tournament is being played at the new Kozoom Studio in Andernos with live broadcasts in the highest quality of production. The matches start at 17:00 on the agreed dates.
The 38-year-old Spaniard faced the 37-year-old Mikaël Devogelaere and 18-year-old Nathan Duriez in a group in which Thomas Andersen, Dani Sánchez and Martin Bohac were replaced.
On the final day of Group C, Rubén Legazpi was at his best and crowned himself the winner of the first session. The tall Spaniard went past his French rival Mikaël Devogelaere in the ultimate sets to take the overall win and qualification for the final round. The Madrid native, who in his last international appearance before the long stop was the European Nation's winner with Dani Sánchez, is the first of eight finalists at the Kozoom 3-Cushion Challenge Cup. The second group is next week from Tuesday to Thursday with Dick Jaspers, Peter Ceulemans and Rui Costa going head to head.

Group C Final Standings:
1) Rubén Legazpi 13-191-109-1,752-10
2) Mikaël Devogelaere 10-150-108-1,386-6
3) Nathan Duriez 1-98-105-0,933-5
For detailed scores, kindly refer to our results page.
Highlights from Group C:

Back