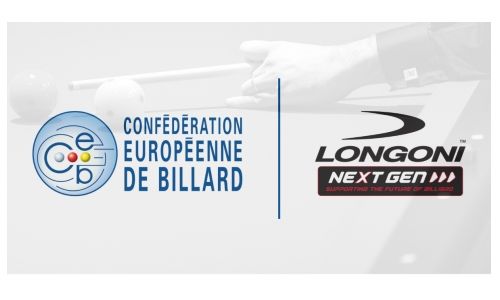 12/02/2022
LONGONI NEXT GEN.
This is to inform Federations and athletes that it's already possible to register for the first Longoni Next Gen Grand Prix 5 Pins U21.
The deadline for registrations is set on December 31st, 2022.
This first step of the new tour will take place in Cusago (Milano, Italy) in the ASD ROYAL BILLIARDS in February 2023, 4th and 5th.
CEB reminds that this Grand Prix is part of the Longoni Next Gen circuit for the discipline of 5 Pins.
The circuit includes 3 events: 2 Grand Prix 5 Pins U21 and the European Championship 5 Pins U21.
The three events will grant ranking points for the CEB-Longoni Next Gen 5 Pins Ranking (see the tournament rules for the ranking points assignment).
Best three at the end of the current season will be awarded with a Wild Card for the European Championship 5 Pins Individual of the next season, free of registration fees.
All informations can be found on the CEB event page: https://www.eurobillard.org/events/longonigp%205p%20u21-370.html

Back