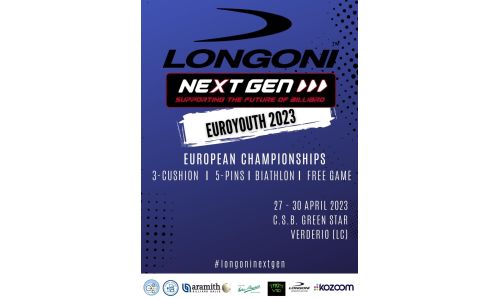 04/25/2023
Everything is ready in the Green Star Billiard Club in Verderio (Italy) for the Longoni Next Gen Euroyouth 2023.
The event takes place for the second time in a row in Italy, even bigger than last year and part of the Longoni Next Gen project which also includes two 5 Pins Grand Prix already played and two 3-Cushion Grand Prix during this season, one yet to be played. The Italian Federation (FISBB) and Longoni strongly supported this project together with CEB partners Simonis, Aramith and Taom.
This is the most important European event dedicated to the best youth billiard players. Five CEB titles will be assigned over the 4 days, from 27th to 30th of April: 5-Pins U21, 3-Cushion U21 and U17, Biathlon National Teams U21 and Free Game U21. A total of 53 players are expected in Verderio representing 13 National Federations.

All details, groups, timetables and results are published in the dedicated pages of CEB website.
Click here for full details.

Kozoom will broadcast all tables for premium pass holders.


Back