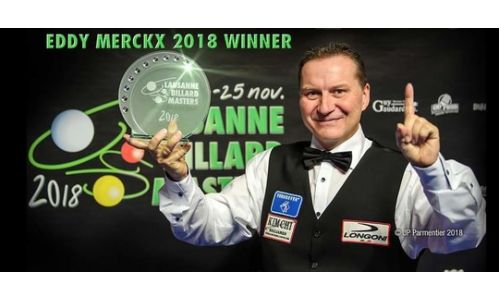 11/25/2018
The Olympic city Lausanne is host to one of the best invitational tournaments of the year: the Lausanne Billard Masters. It has always had good winners: 2013 and 2014 Zanetti, 2015 and 2017 Jaspers, 2016 Sánchez.

Beating Eddy Merckx in a final: that is one of the hardest things to do in 3-cushion. The Belgian champion, recently winner of the Seoul World Cup, also won the sixth edition of the Lausanne Billard Masters, beating Murat Naci Coklu on the Sunday afternoon: 40-33 in 17 innings.

Merckx makes a habit of saving his best play for the latest stages of tournaments. He had no trouble surviving his group, with Blomdahl, Sánchez and Boulaz. In the quarters, he was completely dominant against Dong Koong Kang: 40-14 in 15. The semifinal was a hard fight against Sánchez, who made a strong comeback after a run of 13 by Merckx. The Belgian still finished first: 40-35 in 23. The final was a see-saw: both players were in the lead several times. Coklu pulled away, but Merckx ran a 12 to take over. There was an unlucky moment for the Turk, there was a lucky moment for the Belgian, and it was all over.

Sánchez, as mentioned, was stopped by Merckx. Tournament favorite Jaspers (after his brilliant win over Bury in 7 innings) was beaten twice by Coklu. The Turk started his semifinal against the Dutchman with 3-3-3-3-3, an unusual but strong list! Jaspers struggled to make runs and a few unforced errors crept in. Coklu, surprisingly, was never in danger: 40-23 in 17.

As usual, the tournament raised money for charity: "Sport pour SEP", a chronic disease. La Baule winner Martin Horn donated part of his prize money, a fine gesture.

Final standing of "Lausanne":

1st Eddy Merckx

2nd.Murat Naci Coklu

3d and 4th. Dani Sánchez and Dick Jaspers

5th. Dong Koong Kang, Marco Zanetti, Torbjörn Blomdahl and Martin Horn.

Dong Koong Kang made the high run of the event: 17. The best match was played by Dick Jaspers: 40 in 7.

Back