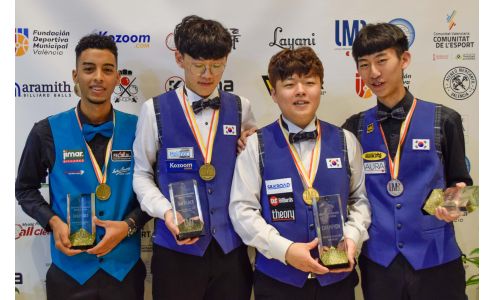 10/06/2019
In the eyes of many, he is the greatest 3-cushion talent in the world. Myung Woo Cho dealt with all the high expectations when he cruised to his third Junior world title, this Saturday. Only his countryman Haeng Jik Kim did better: he won four. It confirmed what we already knew: the European juniors will have a mountain to climb if they want to keep up with the level of play coming from Korea.
In Valencia, where the Spanish Federation had combined this championship with the Ladies event, Cho was never in any danger. His averages are way too high for the competition, and his game has matured in recent years, as his victory in the last LG U+ Cup showed.
On the final day, with four players left, Korea set the tone. Myung Woo Cho, Cristian Montoya, Hwa Woo Cho and Jun Seo Ko had all won their quarterfinal matches and, in the process, eliminated the remaining European hopefuls. It is obvious that a playing strength under 1.000 average will no longer give you a chance at a gold medal, in this Junior event.
Myung Woo Cho could afford to make a few mistakes against his Colombian opponent. Montoya could be happy with his debut, but he had no answer to Cho's productivity: 35-15 in 19 innings.
The second semifinal showed more fight, and much of the credit went to Jun Seo Ko, who came from behind to beat his countryman: 35-33 in 27.
The final between Cho and Ko started of nervy, with some difficult positions on the table and unforced errors from both players. Cho was the first to find some rhythm, and a run of nine set him up for a comfortable win: 35-24 in 24. A little smile on the face of Ko said, in so many words: "I lost to a better player."
Final standing in Valencia:
1. Myung Woo Cho (S. Korea) 1.792 – 10
2. Jun Seo Ko (S. Korea) 0.972 – 7
3. Hwa Woo Cho (S. Korea) 1.176 – 10
3. Cristian Montoya (Colombia) 0.891 – 10.

Back