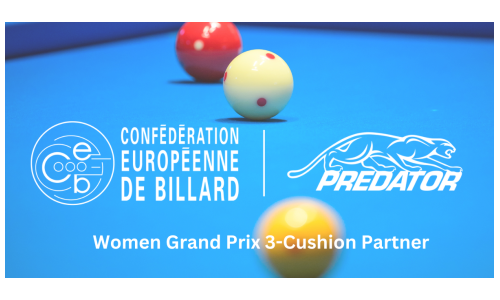 01/20/2023
CEB is delighted to announce that the 2 new CEB Women 3-Cushion Grand Prix in 2023 will be sponsored by Predator.
The first Grand Prix will be organized by RFEB in Valencia (Spain) from the 5th to the 7th of May 2023, the second will be organized in Bottrop (Germany) the 23rd to the 25th of June 2023.
Inscription will be free for all sportswomen and the total prize money will be € 4.250 for each Grand Prix.
The 2 events will grant ranking points for the CEB 3-Cushion Ladies Ranking (see the tournament rules for the ranking points assignment).
Best two at the end of the current season will be awarded with a Wild Card for the European Championship 3-cushion Individual of the next season, free of registration fees.
All information will be available on the CEB events page:
PREDATOR Grand Prix Women 3-Cushion - Valencia
PREDATOR Grand Prix Women 3-Cushion - Bottrop

Back