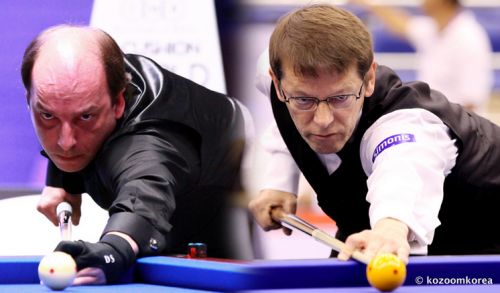 06/15/2017
PORTO - Porto has already made a name for itself, hosting many World Cup tournaments. Now, the arena of the Academia de Bilhar, in the famous Estadio Do Dragao, welcomes the best European club teams in the battle for the Coupe d' Europe from Friday 9 to Sunday 11 June. Top players such as Dani Sánchez, Torbjörn Blomdahl, Eddy Merckx, Murat Naci Coklu and Tayfun Tasdemir, will perform with their teams.
The title holders are the Turks of Gaziantepspor, this time around without Frédéric Caudron, who had such a major role in last year's victory. The Belgian defeated Torbjörn Blomdahl in the final 40-13 in 13 innings and paved the way for the win against FC Porto.
The Portuguese are amongst the main contenders again with Dani Sánchez and Torbjörn Blomdahl as their heavyweights. ,,We know how difficult it is to win this Europe Cup with so many strong teams'', Sánchez realizes. ,,With the FC Porto team we took silver four times and six times we finished third, but we never won. The whole team is in a good form, I hope we will finally manage to win the Cup. That would be great for FC Porto.''
The Spanish world champion considers the four Turks of Gaziantepspor (Tayfun Tasdemir, Murat Naci Coklu, Can Capak and Gökhan Salman) to be the major competitor, but also bears in mind the strength of the French CetSi Morangis with, amongst others, Eddy Merckx and Eddy Leppens and the Danish team with Dion Nelin and Tonny Carlsen. The Danes are with two teams in the final: BK Varde is a feared outsider. The team reached the final with a general average over 1.600.
The billiard academy is located in the famous Estadio do Dragão, the Mecca of Portuguese football, built in 2003 with a capacity of 50.000 seats.
The group format and the players:
Group A:
Gaziantepspor (Turkey): Tayfun Tasdemir - Murat Naci Coklu - Can Capak - Gökhan Salman
BK Gröndal (Denmark): Dion Nelin - Tonny Carlsen - Brian Knudsen - Lars Dunch
Buffalo (The Netherlands): Glenn Hofman - Jean van Erp - Jeffrey Jorissen - Herman van Daalen
BC Deurne (Belgium): Jef Philipoom - Davy van Havere - Ludo Dielis - Jef Gijsels
Group B:
FC Porto (Portugal): Dani Sánchez - Torbjörn Blomdahl - Rui Costa - Joao Ferreira
CETSI Morangis (France): Eddy Merckx - Eddy Leppens - Richard Bitalis - Jean Reverchon
Gunduz Spor (Turkey): Murat Celik - Tolgahan Kiraz - Mehmet Aksoy - Ayhan Semiz
BK Varde (Denmark): Brian Hansen - Michael Nilsson - Thomas Andersen - Allan Schröder
All matches can be seen on Kozoom.
The schedule:
Thursday (June 8): Practice from 16.30 to 20.00.
Friday: 9.30: Opening ceremony / 10.00 pm: start games, final round at 20:00.
Saturday: 9:00: Matches. / Starting at 13.00: last group matches
Sunday:10.00 and 12.00: semi-finals / 16.30 Final / 20:00: Closing ceremony.

Back