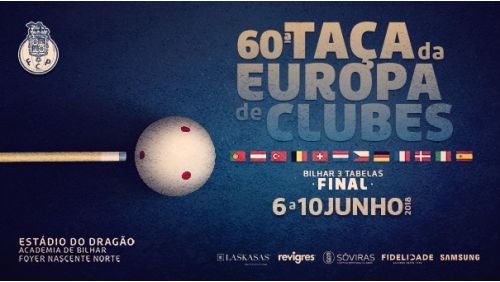 06/07/2018
From 6 – 10 June, the beautiful city of Porto (Portugal) will host the 60th edition of the Coupe d' Europe, the most prestigious prize that can be won by club teams from CEB countries. For the first time, the qualification rounds are not scattered all over Europe; they take place in the same venue as the final. That location is the Academia de Bilhar FC Porto, inside the Stadio Do Dragao, where eight tables await the players.
The organizing club (FC Porto) is also the title holder. Last year, in a thrilling final, the Portuguese foursome of Dani Sánchez, Torbjörn Blomdahl, Rui Manuel Costa and Joao Pedro Ferreira beat the Turkish team Gaziantepspor to win their first European crown.
Twenty-four teams split up in six groups of four will attempt to qualify for the K.O. stage of the tournament. Amongst those teams are two debutants from the Czech Republic. These are the groups:
Mecidiyeköy SK (Turkey), Op De Meir (Belgium), BSK Union S.U. (Austria), SL Benfica (Portugal).
Academie Lausannoise Billard (Switzerland), S.I.S. Schoonmaak (Netherlands), Leca FC Multicargo (Portugal), BC Deurne (Belgium).
BK Ekvita Kladno (Czech Republic), BC Elite Wien (Austria), FBN Tekstil BSK (Turkey), Bottroper BA (Germany).
Billard Club Zürich (Switzerland), Varde BK (Denmark), A Sportive Laxovienne Billard (France), ASD Billards Café (Italy).
L & B Ledermode (Netherlands), Club Billar Paiporta (Spain), BC Poruba (Czech Republic), BC Elversberg (Germany).
BK Gröndal (Denmark), AS Billiardo La Biglia (Italy), CL Billar Casino de Cartagena (Spain), Billard Club Baulois (France).
All matches will be played to 40 points. The six group winners will advance, as well as the best runner-up. That makes seven, and the eighth team in the finals will be FC Porto, the defending champion.
There is a prize fund of 3.000 Euro for every team that qualifies for the Final.
All results can be found on Kozoom, as well as the live stream.
All the results are here: http://www.fcporto.pt/pt/noticias/Pages/resultados-taca-europa-clubes.aspx

Back