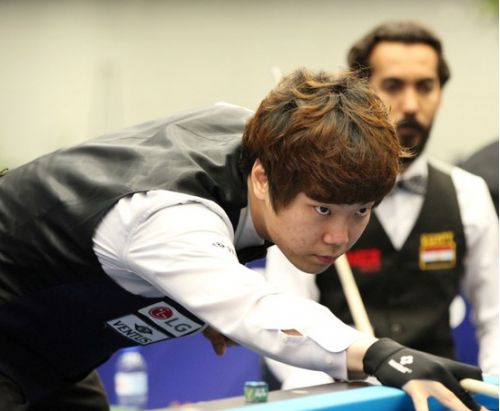 07/10/2017
Haeng Jik Kim can do it all.
Porto - What more is there in the future of Haeng Jik Kim? In Porto, he added a first World Cup victory to his already impressive resume: four junior world titles and an Asian Confederational title. We might as well say it: the young man is almost destined to become world champion soon.
Truth be told, the draw in Porto did help. Many favorite players (Jaspers, Caudron, Zanetti) were eliminated early, and Kim could fairly comfortably win his first few matches. When Sánchez, Polychronopoulos, Blomdahl and Merckx were also out, the draw was wide open for players who had never won a World Cup.
Jung Han Heo was the only one who had, and he made it to the semifinal stage. There, he was joined by Haeng Jik, Nguyen Quoc Nguyen from Vietnam and Lütfi Cenet from Turkey. The power shifting towards the East was clearly visible in Portugal.
In a surprise turn of events, Heo on the final day was not a shadow of the player he had been earlier in the week. Nguyen beat him quite easily: 40-20 in 26 innings. The expressive, extravert player from Vietnam was all smiles as he booked his first place in a World Cup final.
Haeng Jik Kim meanwhile, had a tough fight on his hands. Lütfi Cenet had not done particularly well in recent World Cups, but in Porto he was formidable. A shootout win over Zanetti, a great comeback against Blomdahl: the Turk was on fire. Kim made good runs of 6 and 8 in the second half of the match, and got the job done in 23 innings: 40-36.
The final started off as a one-man show: Haeng Jik ran 9 from the break and took a 17-4 lead. Nguyen showed character, ran a 9 of his own and even regained the lead at 18-20. But in the second half of the match, it was the Korean who dominated. Nguyen had seven consecutive open innings, and Haeng Jik took full advantage: 40-28. The Vietnamese crowd pleaser added 6 in the equalizing inning, for a final score of 40-34 in 23.
The high run of the tournament was 17, made by Nguyen.
The best match was played by Eddy Leppens: 40 in 7.
Dani Sánchez is the new leader on the world ranking, ahead of Jaspers, Zanetti and Caudron.
Final ranking of Porto:

1 Haeng-Jik Kim 1.680-9

2 Nguyen Quoc Nguyen 1.747-17

3 Lütfi Cenet 2.052-11

4 Jung-Han Heo 1.590-8

5 Dani Sánchez 1.966-13

6 Torbjörn Blomdahl 1.824-8

7 Anh Vu Duong 1.457-8

8 Wan Young Choi 1.411-9

9 Dong-Koong Kang 2.517-8

10 Jae-Ho Cho 2.000-10

11 Eddy Merckx 1.880-7

12 Eddy Leppens 1.590-14

13 Sung-Won Choi 1.500-14

14 Joao Ferreira 1.416-7

15 Frédéric Caudron 1.411-5

16 Sameh Sidhom 1.220-7

17 Marco Zanetti 2.352-6

18 Nikos Polychronopoulos 2.000-15

19 Dinh Nai Ngo 1.636-9

20 Javier Palazón 1.600-14.

The new world ranking:

1 Dani Sánchez 422 punten

2 Dick Jaspers 360

3 Marco Zanetti 329

4 Frédéric Caudron 320

5 Haeng-Jik Kim 296

6 Torbjörn Blomdahl 290

7 Nikos Polychronopoulos 277

8 Jérémy Bury 240

9 Murat Naci Coklu 237

10 Eddy Merckx 220

11 Sameh Sidhom 220

12 Jung-Han Heo 214

13 Nguyen Quoc Nguyen 213

14 Quyet Chien Tran 203

15 Sung-Won Choi 195

16 Jae-Ho Cho 191

17 Tayfun Tasdemir 172

18 Eddy Leppens 161

19 Dong-Koong Kang 153

20 Semih Sayginer 150.

Back