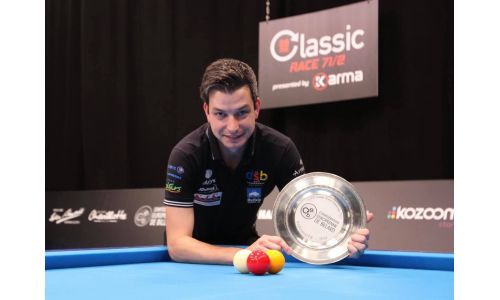 07/11/2021
After three exciting days of competition in the Kozoom Studio in Andernos the Dutchman Raymund Swertz is the winner of the first Classic Race played in balkline 71/2.
The current European Champion in this discipline did not disappoint the spectators, showing phenomenal speed of execution combined with great technical ability.
He remains unbeaten with four consecutive victories, a general average of 61,80, highest runs of 213 and 188.
Raymund achieved a personal record of 362 points in 1 hour in the final match against his compatriot Dave Christiani, the runner up, who finished with 277 points.
Third position went to the Frenchman Johann Petit and Sven Daske from Germany.
Find all the detailed results and standings here
Picture by Hervé Lacombe

Back