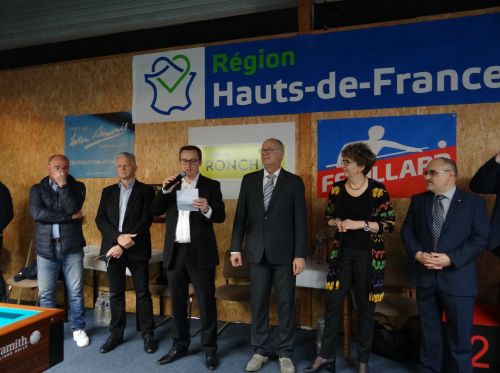 04/03/2018
At the end of a good week for billiards, the CEB can say "merci bien" to the French, and the French can say "thank you" to the European Confederation. The multi-event in Ronchin, a first major testcase for the CEB's new board, was turned into a success by and for the host nation.
CEB president Diane Wild said early on, that the development of the junior and the female players would be high on her list of policy priorities, and the French federation delivered ahead of schedule. Three names stood out in Ronchin, and they were all French: Gwendal Maréchal, Maxime Panaia and Magali Declunder.
The 3-cushion title event for players under 21 had a clear favorite: Carlos Anquita from Spain, who had shown impressive form in the latest World Championship of that age class. This time however, he had to bow to a superior 20-year old from Lorient: Gwendal Marechal. The Frenchman capitalized well on a few mistakes by the Spaniard and booked a 30-15 win (in 22) in the final. Stef van Hees (Belgium) and Dimitrios Seleventas (Greece) completed the podium.
In the under 17 category, another young Frenchman grabbed first prize. This did not come as a surprise, because it was Maxime Panaia's third in a row. Like Maréchal, he will not be eligible next year, so he ended his reign in style, with a 30-10 (in 14) win over his countryman Nathan Duriez.
Anders Hendriksen from Denmark won the free game under 21. He played a flawless final: 300 in 1 inning. Nick Dudink (Netherlands) won the free game under 17.
In the Ladies Cup, Magali Declunder added another title to her very long list. The tenfold European champion defeated Monique van Exter (Netherlands) in a one-sided final: 150 – 26 in three innings.
The host nation won a total of nine medals in Ronchin: three golds, three silvers and three bronzes.

Back