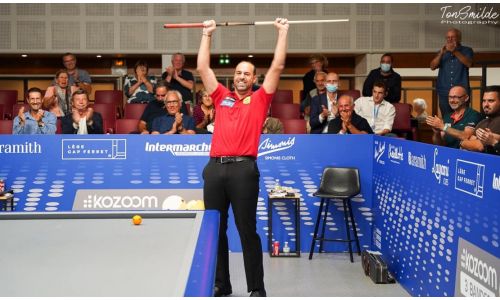 09/20/2021
Ruben Legazpi from Spain was victorious in a flawless tournament where he got the better of the three best players in the world, Marco Zanetti, Dick Jaspers, and Eddy Merckx in the final match.
There was no shortage of surprises in this competition. In the first round, the two favourites made a false start losing their first match and went into the losers pool, Zanetti against Legazpi and Jaspers against Nelin. The young Frenchman Gwendal Marechal made a brilliant start beating Roland Forthomme, and Eddy Merckx had the better of his opponent Peter De Backer.
In the losers pool, Jaspers eliminated Zanetti, and Forthomme recovered from a bad start by winning against De Backer.
In the second part of the DKO table, Eddy Merckx went straight to the semifinals by beating Marechal while Legazpi did the same against Nelin. Marechal and Forthomme missed their last chance to reach the semifinals against Jaspers and Nelin.
In the semifinals, Merckx and Legazpi extended their unbeaten streak against Nelin and Jaspers.
The final was a thrilling one. Merckx won the first set and Legazpi responded by winning the next two sets. Merckx made his come back in the fourth set to tie the count. They won one set each in the fifth and sixth. All was at stake in the last set and until the last point when they reached a score of 9-9. Merckx missed his match point and Legazpi did not leave another chance for the Belgian champion.
Pictures: Ton Smilde

Back