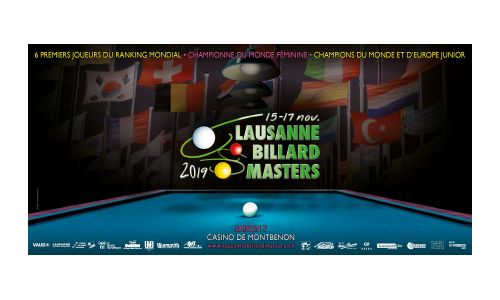 11/12/2019
The field in Lausanne has always been high quality, but this 2019 edition raises the bar. The charity event hosted by CEB president Diane Wild will have the current world champion Dick Jaspers, the under 22 world champion Myung Woo Cho, the European under 21 champion Maxime Panaia and the ladies world champion Therese Klompenhouwer.
Since the LBM is played in three flights of four players, that leaves us with eight more names. Here they are, in random order: Jae Ho Cho, Martin Horn, Semih Sayginer, Marco Zanetti, Eddy Merckx, Dani Sánchez, Tayfun Tasdemir and Michel Boulaz.
The Casino de Montbenon, overlooking "Lac Léman" will again be the venue for this invitational that has been held since 2013. The previous winners: Zanetti (2013 and 2014), Jaspers (2015), Sánchez (2016), Jaspers (2017) and Merckx (2018). The exquisite location is one of the things that set this tournament apart: the arena is smaller and more intimate than a World Cup, the Olympic city of Lausanne is in walking distance and all the natural beauty of Switzerland is around the corner.
Matches are to 40 points, without an equalizing inning. The best two from all groups will proceed to the quarterfinals, joined by the two best numbers three. It will be K.O. from there on. Play starts on Friday the 15th of November, the final is on Sunday the 17th.
Here are the groups:
A) Jaspers, Jae Ho Cho, Horn, Boulaz.
B) Zanetti, Merckx, Myung Woo Cho, Panaia.
C) Tasdemir, Sayginer, Sánchez, Klompenhouwer.
All matches can be seen on Kozoom.

Back