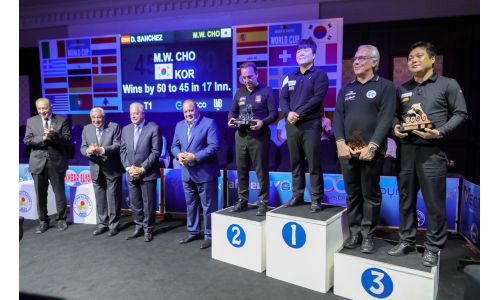 12/04/2022
Update: Saturday December 10th.
Korean wonder boy Myung Woo Cho gets his first World Cup defeating the runner up Daniel Sanchez (Spain) in a fantastic match.
Bronze medals for Marco Zanetti (Italy) and Chang Hoon Seo (South Korea).
Dick Jaspers (Netherlands) is the overall World Cup winner for 2022.
Sunday December 4th.
The World Cup cycle turns to the end in the Park Regency Resort in Sharm El Sheikh (Egypt).
The sixth and last World Cup of 2022 is just started with the pre-rounds, the final will take place on Saturday 10th. The overall winner for 2022 is already decided: Dick Jaspers. He can't be overtaken whatever the outcome of this last tournament will be.
The first five were all won by European athletes: Dick Jaspers (2 times), then Eddy Merckx, Daniel Sanchez and Torbjörn Blomdahl (1 time each).
Follow all info and updates on UMB website.

Back