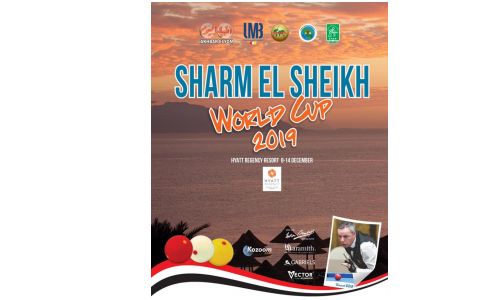 12/04/2019
Two questions present themselves, just before the World Cup in Sharm El Sheikh, Egypt: who will win this seventh event of 2019, and who will win the overall World Cup for the season? Many players are still in win a chance. So far, we've seen Tasdemir win in Antalya, Caudron in Ho Chi Minh City, Palazon in Blankenberge, Jaspers in Porto, Haeng Jik Kim in Veghel and Merckx in Guri. World Cup winners collect 80 points, with second place good for 54, third 36, quarterfinalists 26, last sixteen 18 and last thirty-two 10 points. With just one tournament to go, Merckx and Tasdemir share the lead with 188 points, followed by Kim who has 176, Jaspers on 170, Cenet on 157 and the suspended Caudron on 134. Zanetti, Jae Ho Cho and Sánchez have no more than a theoretical chance, on 132, 126 and 124 points.
Egypt has been home to more World Cups in recent history than any other country: we've had nineteen events under the sun in this millennium. Dani Sánchez was the most successful player in the country of Edmund Soussa, the first world champion, he won four times. Caudron and Merckx both had three wins in Egypt, Jaspers two. The one-time winners were Kasidokostas, Philipoom, Yüksel, Heo, Zanetti, Blomdahl and Forthomme.
The seeded players in Sharm El Sheikh are Jaspers, Zanetti, Tasdemir, Sayginer, Merckx, Cho, Tran, Sidhom, Coklu, Bury, Kim, Horn, Heo and Blomdahl. The organization gave their wildcards to Riad Nady and Hesham Saad, the UMB wildcard went to Guido Sacco from Peru.
As usual, the winner receives 16.000 Euro, there is 10.000 for the runner-up and 6.000 for the two bronze medalists. The tables are Gabriels, the cloth is Simonis 300 Prestige Blue, the balls are Aramith Pro Cup Prestige.

Back