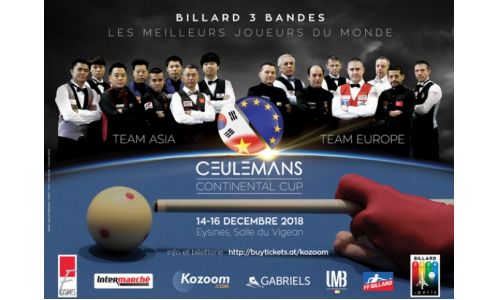 12/12/2018
Golf fans love the Ryder Cup, pool fans consider the Mosconi Cup the highlight of the year. Now, 3-cushion lovers can look forward to a similar event. In the first edition of the "Ceulemans Cup", from 14 – 16 December, eight European players will compete with eight Asians. The location is Eysines near Bordeaux, France.

This initiative is another collaboration between the UMB and Kozoom, following the 3CC and Survival tournaments. All matches of the three-day event can be followed on Kozoom, live.

The format is simple: there will be a single table, with Europe and Asia playing to 600 points. As soon as a player has made 25 points, his place will be taken by another player of his team. If your team is in the lead, you can't make more than 25 points. If your team is behind, you can.

The teams were selected based on the final world ranking of 2017. For Europe, the players are:

Frédéric Caudron

Eddy Merckx

Dick Jaspers

Marco Zanetti

Torbjörn Blomdahl

Dani Sánchez

Murat Naci Coklu

Jérémy Bury.

For Asia, the eight players are:

Haeng Jik Kim

Nguyen Quoc Nguyen

Sung Won Choi

Jung Han Heo

Jae Ho Cho

Quyet Chien Tran

Minh Cam Ma

Dong Koong Kang

The starting match is Caudron – Kang, on Friday the 14th at 11.00 local time.

The players of the winning team will receive 15.000 dollars, the players of the losing team will receive 5.000. Total prize money: 160.000 dollars.

Back