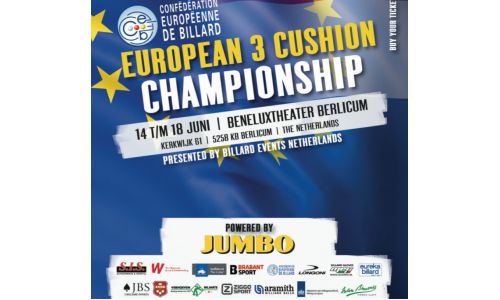 06/13/2022
One of the most important events of the sport season for the 3-cushion discipline is at the starting blocks tomorrow in Berlicum (Netherlands). This 2022 edition is organized by the Dutch Federation (KNBB) and BEN (Biljart Evenementen Nederland) in the Beneluxtheater in Berlicum. It will be five days of great billiard, from 14th to 18th of June. The two first days are dedicated to the qualification stage: 48 players divided into 16 groups of 3. The 16 group winners will advance in the final knockout stage where they will find the top 16 players of the CEB ranking waiting. 17 CEB Federation are represented. The defending champion is the local hero, Dick Jaspers, the winner of the last edition played in Brandenburg in 2019 and currently the number 1 in the world UMB ranking. The field of competitors is impressive since in the top 16 of the CEB ranking the world top of 3-cushion is very well represented.
Kozoom will broadcast all matches live.
Results, infos and schedule here.
Press Release 13/6
Press Release 14/6
Press Release 15/6
LAST 32 KNOCKOUT ROUND STARTING TODAY JUNE 16th AT 12:30. CLICK HERE FOR MATCHES AND RESULTS.
Press Release 16/6
Press Release 17/2
SEMIFINALS JUNE 18th:
11:00 Dick Jaspers - Semih Sayginer
13:30 Martin Horn - Daniel Sanchez

Back