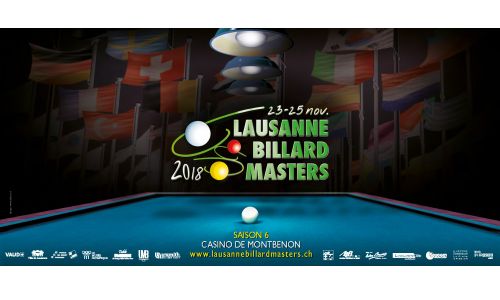 11/20/2018
From 23 to 25 November, the Casino de Montbenon will once again be host to the Lausanne Billard Masters. It is the sixth edition of this prestigious invitational tournament, and it has had a world class winner in all the previous years. To refresh your memory: Zanetti won in 2013 and 2014, Jaspers in 2015 and 2017, and Sánchez in 2016.
This year, play will be in three flights of four players, leading up to a knock-out final eight. The local (Swiss) player is Michel Boulaz, who finds himself in group A with Eddy Merckx, Torbjörn Blomdahl and Daniel Sánchez, who have a combined 12 world titles on their resume.
Group B consists of all-heavyweights: Dick Jaspers, Murat Naci Coklu, Jeremy Bury and Dong Koong Kang. You may remember the exciting recent final of the World Championship, between Jaspers and Bury. Coklu and Kang, on their day, are capable of beating anybody.
In Group C we find a very promising youngster: Gwendal Maréchal from France. His invitation underlines that the promotion of billiards for junior players is always on the agenda for CEB president Diane Wild, who is also the principal organizer of the LBM. Maréchal will take on Lausanne regulars Marco Zanetti and Martin Horn, as well as one of the strongest Koreans: Jung Han Heo.
The tables in the beautiful arena of the Montbenon are Min, balls are Aramith and the cloth is Simonis.
The prize fund in Lausanne is 37.000 Swiss francs, with a first prize of 7.000 francs. Bonuses can be won for high runs of 12, 15 and 20, and for matches won in 20 innings or less and 15 innings or less. There is also a prize of 800 francs for the highest general average, if that is over 2.000.
Matches are to 40 points, there is no equalizing inning and the shot clock is 40 seconds.
The players will have a chance to warm up on Friday the 23d in the morning, and the action will start at 12.00. The final is scheduled for Sunday at 14.30. If you have a premium pass, you can watch it all on Kozoom.

Back