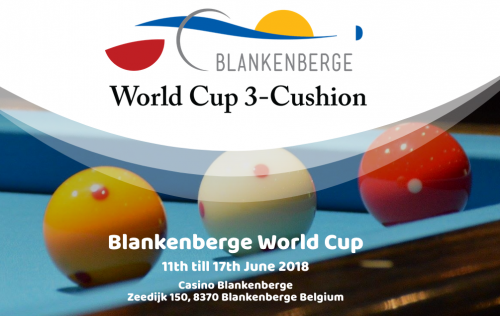 06/09/2018
The Belgian seaside city of Blankenberge will provide the backdrop for the third World Cup of 2018, from 11 – 17 June. Just to refresh your memory: the first was in Antalya, Turkey, where Caudron was victorious, and the second was in Ho Chi Minh City, with Quyet Chien Tran as the winner.
Blankenberge is not a new name in billiards, on the contrary. Belgian players have gathered in the Blankenberge casino to compete for their national titles in a multi-discipline event for twenty years. The most prominent name in those two decades was Frédéric Caudron, who set world records and won numerous titles in balkline, 3-cushion, one-cushion and even the free game here.
Host and first responsible organizer of the Blankenberge World Cup is Kurt Ceulemans, son of the legendary Raymond Ceulemans. His ambition is to "bring in a fresh wind, shake off the dusty old image and show the spectators how entertaining and fascinating 3-cushion billiards can be."
The UMB has seeded the following players for this event: Frédéric Caudron, Eddy Merckx, Dick jaspers, Heang Jik Kim, Marco Zanetti, Torbjörn Blomdahl, Dani Sánchez, Jung Han Heo, Jae Ho Cho, Sameh Sidhom, Murat Naci Coklu, Sung Won Choi, Jeremy Bury and Nikos Polychronopoulos. The UMB wildcard was given to Ihab El Messery, the two local wildcards to Eddy Leppens and Roland Forthomme.
The qualification event is fully booked with 149 names and a few dozen hopefuls on the reserve list. The 18th World Cup tournament on Belgian soil promises to be an event you don't want to miss.

Back