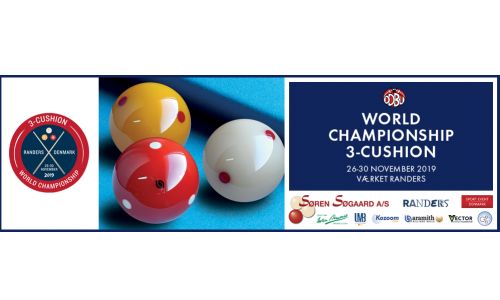 11/24/2019
A very strong European delegation will compete in the World Championship 3-cushion, starting next week in Randers, Denmark. The Euro-contingent provides almost half the field: 23 of 48 players. They range from the young and talented, such as Gwendal Maréchal from France and Alessio D'Agata from Italy, to the seasoned and even legendary: players in their late fifties such as Marco Zanetti and Torbjörn Blomdahl. The Europeans bring no fewer than 19 past world titles to the table: six for Blomdahl, four for Jaspers and Sánchez, two for Merckx, two for Zanetti and one for Sayginer.
Seventeen years ago, Marco Zanetti won his first 3-cushion world title in this same city: Randers, Denmark, when he beat a young Dion Nelin in the final. From26-30 November, the Danes will once again host the championship, and both finalists from 2002 are still in the field.
World number one Dick Jaspers will defend the title, in a tournament that has 48 players in sixteen groups of three. Jaspers and sixteen more players have been seeded: Marco Zanetti, Tayfun Tasdemir, Semih Sayginer, Eddy Merckx, Jae Ho Cho, Quyet Chien Tran, Sameh Sidhom, Murat Naci Coklu, Jeremy Bury, Haeng Jik Kim, Martin Horn, Jung Han Heo, Torbjörn Blomdahl, Myung Woo Cho, Sung Won Choi and Dani Sánchez. The CEB has contributed thirteen players, the CPB eight, the ACBC six and the ACC two. The two Danish wildcards were given to Thomas Andersen and Jacob Haack-Sörensen. You can see all the names by clicking on the link below.
http://files.umb-carom.org/Uploads/Results/172/A.Players%20List.pdf
Remarkably, of the six spots available to the ACBC, only one ended up in Korean hands. The Asian confederation chose to send two Japanese players, two Vietnamese, one Lebanese and one Korean. The CEB has spread their thirteen spots over thirteen nationalities. The eight CPB players come from four different countries. Both ACC players are from Egypt.
The two best from all groups will advance to the knock-out stage, from last 32 to last 16, quarterfinals, semifinals and final. Matches are to 40 points, with equalizing inning. The tables are Sören Sögaard, the cloth is Simonis 300 Prestige Blue, the balls are Super Aramith Pro Cup Prestige.
The winner of the title receives 20.000 Euro, the runner-up 12.000. Both losing semifinalists get 7.000, and the losing quarterfinalists 4.000.
There are also considerable ranking points at stake: the world champion can add 120 points, the runner-up 81, the numbers 3 get 57 points. The position of Dick Jaspers on the ranking looks very secure, but from 12th to 18th spot, the differences are rather small, which makes "Randers" a crucial event for these players.
The first group matches start on Tuesday the 26th,12:00 Danish time. The final is scheduled for Saturday afternoon, 17:00. All matches will be streamed by Kozoom.

Back