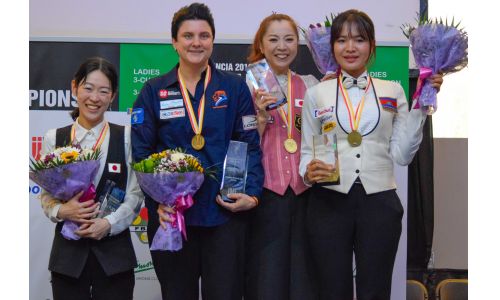 10/02/2019
The reigning Ladies world champion successfully defended her title in Valencia, Spain. Therese Klompenhouwer from the Netherlands beat her long-time rival Orie Hida from Japan in the final, to complete a dominant championship. She stayed unbeaten through the week, was consistently over 1.000 average, and no doubt the best player in the event.
After the preliminaries and K.O. last 16 and quarterfinal rounds, four women were still in the race for the 2019 UMB world title: Therese Klompenhouwer, Orie Hida, Sruong Pheavy and Ayako Sakai. Of the four, Sakai was the outsider, Pheavy the coming woman. Both played well were came up short against the holders of three and four world titles respectively. Klompenhouwer was never in trouble in her semifinal against the rising star from Cambodia: 30 – 14 in 29. Hida fought off her countrywoman Sakai: 30-21 in 25.
In a nervy start to the final, Klompenhouwer was on the back foot after she had missed the break-off shot and not made a point in the first four innings: 0-6. She clawed her way back into the match though, and showed that her game has matured considerably in the last two seasons. Hida was kept "in prison" with solid defense, and outscored by the Dutch woman: 30-21 in 27.
The fourth world title for Klompenhouwer means she now shares that record with Hida. Natsumi Higashiuchi from Japan (2012) was the only other winner, in the nine editions of the Ladies event. Klompenhouwer earned 4000 Euro with her first place.
Valencia hosted this championship in combination with the Juniors event. The world title for players up to 21 years of age will take place in the same venue, starting 3 October.

Back