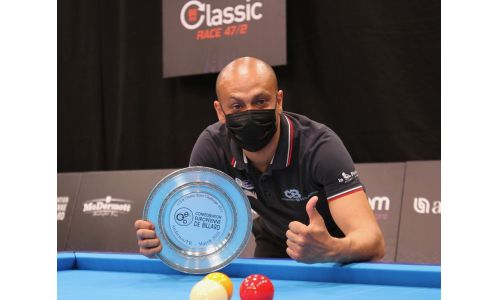 03/29/2021
The French player Willy Gérimont brilliantly won the first edition of the Classic Race Challenge, organized in Andernos by the CEB and Kozoom. In an all-French final, Willy Gérimont defeated his opponent Johann Petit 277 to 236. Eight players were invited for the inaugural Classic Race Challenge. The Chartres player finished unbeaten with 4 victories out of 4 games. Gérimont consecutively defeated Louis Edelin, Johann Petit, Patrick Niessen in the semi-final and again Johann Petit in the final. The proud winner of the Classic Race Challenge has received 1500 Euros in prize money.
The highlights of the tournament?
The match between Brahim Djoubri and Marek Faus on Friday (322-318), the match between Magali Declunder and Faus on Saturday (averages 53,00 and 157,00 for the Czech), between Djoubri and Niessen on Saturday (232-228) and of course the 4 victories in a row by our winner Willy Gérimont.
We thank the technical team (Lorenzo, Morgan and the two Xaviers) for their excellent work, the four referees Patrick Latapie, Hervé Lacombe, Guillaume Clusel and Eric Camilleri and the volunteers in the organization, especially Patrick Girard, Eric Dorizon, Bernard Baudoin and Delphine Roumagère!
The 330 points mark was not reached this time, but will undoubtedly be reached soon if this event format will be continued. Thanks to our CEB team for this new project and thanks to Kozoom for making it happen.
The final rankings:
1) Willy Gérimont, 4 wins, 1129 points, average 47,04, highest run 191, best game 329
2) Johann Petit 2-1222-20,71-178-274
3) Brahim Djoubri 2-766-23,93-234-322
3) Patrick Niessen 2-980-23,90-142-265
5) Marek Faus 2-803-42,26-165-318
5) Pascal Dessaint 1-560-13,02-102-228
7) Magali Declunder 0-342-19,00-132- 212
7) Louis Edelin 0-347-16,52-85-194
Watch all the replays on YouTube:

Back