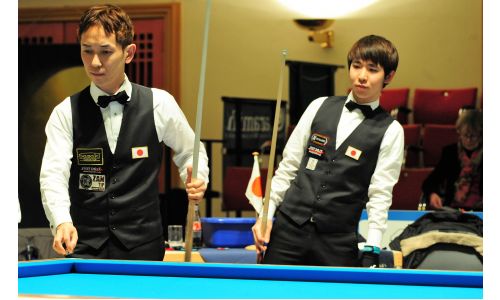 03/15/2019
Host nation Germany starts with a win and a defeat
Today this year's 3-cushions world championships for two-man teams started in Viersen/Germany. With, of course, also a duo from the host country consisting of Martin Horn and Ronny Lindemann.
Right at the beginning of the tournament, these two had to play against Colombia, which they had clearly beaten a year ago at the same place. This time it was a little different. Although Horn/Lindemann were soon able to take a 26:13-lead until the break, the Colombians came back strong and led with 38:35.
Team Germany fought back, scored four points and then had a match point. However, Martin Horn didn't make it, whereupon a sporty drama developed. At 39:39 both teams had multiple match points before Ronny Lindemann redeemed his team and the German fans.
In the evening Germany had to play the second group match against the Turkish duo. Murat Naci Coklu and Lütfi Cenet actually proved to be the better team, as evidenced by a 28:13-lead right before the break. A run of 10 points at 18:13 provided practically more than the pre-decision. After that defeat, 21:40 in the end, Germany needs a win in the last group match against Peru to maintain the dream of winning a medal.
Meanwhile the defending champions from Korea, Haeng Jik Kim and Jae Ho Cho, defeated Lebanon with 40:21 points. In a similar manner Austria prevailed against Egypt at the same time. Furthermore Belgiums Frédéric Caudron and Eddy Merckx beat Mexico in the first match with 40:25 and France won over Japan. In Group C the Netherlands celebrated their first victory against Vietnam and Greece against Denmark.
Results Day 1:
Turkey - Peru 40:31
Germany - Colombia 40:39
Netherlands - Vietnam 40:26
Danmark – Greece 32:40
Korea - Libanon 40:21
Austria - Egypt 40:26
Belgium - Mexico 40:25
France - Japan 40:36
Turkey - Germany 40:21
Peru - Colombia 26:40
-----------------------
Further Links:
WC website
http://viersen.billiard-worldchampionship.org/
WC-Magazine
https://germantour.net/upload/Viersen_2019.pdf

Back