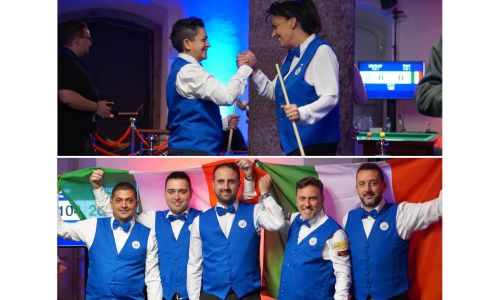 11/08/2023
UPDATE SUNDAY 12th:
In the Ladies championship the Italians took the jackpot reaching the semifinals with all the 3 representatives. Fourth semifinalist is Danish.
Semifinals:
ROMITI (IT) vs BIONDOLILLO (IT)
PULCINI (IT) vs KOEFOED (DK).
Later it was Daniela Romiti, to crown herself the first World Champions 5-Pins Ladies ever, against her compatriot Maria Cristina Pulcini, silver medal.
Bronze medals for Lucia Biondolillo and Charlotte Koefoed.
In the National Teams championship the forecast has so far been respected.
The semifinals are as follows:
ITALY vs DENMARK A
URUGUAY vs ARGENTINA
In the final match Italy succesfully defended the World leadership against the strong Uruguay, taking home the gold for the second time.
Bronze for Denmark A and Argentina
Today live on Kozoom.
*********
The beautiful room of the Saltware House in Hall in Tirol (Austria) is ready to host the second UMB World Championship 5-Pins National Teams. The first one was held in Lugano back in the 2019 and the Italian team got the trophy.
The World Championship 5-Pins Ladies Individual will take place in Hall in Tirol in the same days, for the first time in history.
The double event will start tomorrow November 9th and will end up on November 12th.
BSVO (Austrian Billiard Federation) is the organizer with the support of many local authorities.
On the dedicated website all information are available (groups, schedules, results and general information).
Kozoom will broadcast the event.

Back