Euro-League Club Teams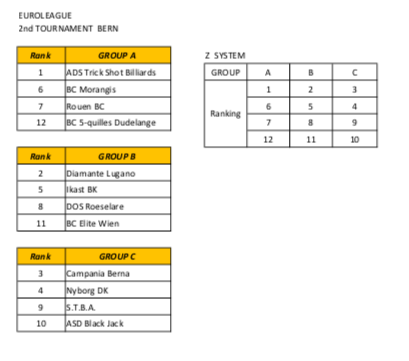 Organized by
Confédération Européenne de Billard
Event dates
28-09-2018 00:00 - 30-09-2018 00:00
Time Schedule
Teams training & Teams registration: Thursday 27 September starting at at 18.00h
Dress control: Friday 28 September at 08.30 hour
Open Ceremony: Friday 28 September at 09.00 hour
Matches: Friday 28 September – qualification groups
Saturday 29 September – qualification groups / quarter finals
Sunday 30 September – semi finals / final
Dresscode
For this new competition, polo shirt is allowed.
Rules
CEB C/26 (**)
Remarks (**)
Considering that Euro League Club Teams 2018 edition will be played with 12 Teams (instead of 16 Teams as for C/26 Rules), the following changes will be applied to CEB Rule C/26:
COMPOSITION OF THE GROUPS
The 12 inscribed teams are positioned in 3 groups of 4 teams each.
The first 2 classified teams of each group plus the best 2 third classified are qualified for the final
round (8 teams total).

RANKINGS AFTER THE GAMES OF THE GROUPS
The places 1 - 3 are received by the winners of the groups.
The places 4 -6 by the teams who are second in the groups
The places 7 -8 by the best 2 third classified teams in the groups

All other articles of C/26 Rules remain unchanged.

Material
Simonis Laser 2.0
Balls
Super Aramith Pro-Cup Prestige
Location
Billard-Club Campania
Informations
Tel: +41 79 129 79 56
LOCAL CONTACTS
ORGANIZER
Mr. Francesco Giangreco
Mobile: +41 79 129 79 56
E-mail: biliardoclubcampania@hotmail.com
Mr. Battista Raviele
mobile: +41 79 620 58 86
e-mail: gino.raviele@hotmail.com
TRAVEL INDICATIONS
Closest Airports:
Zürich: 125 kms Basel: 101 kms
By Road:
From Zürich airport: Highway Bern/Basel/St.Gallen/Zürich – A1/Bern - take exit Bern-Wankdorf From Basel airport: Highway Basel – Gotthard/Luzern/Bern/Arisdorf – A1/ Bern – take exit Bern-Wankdorf
By Train:
From Zürich Flughafen take the train to the station of Bern. Then take the bus to Ostermundigen, Waldeck.
Then walk to the sports location (5 min.)
From Basel EuroAirport take the bus to the station of Basel SBB. Then take the train to the station of Bern. Then take the bus to Ostermundigen, Waldeck. Then walk to the sports location (5 min.)
Players Hotel (Special prices for the tournament)
Hotel IBIS Budget Bern Expo
Am Guisanplatz 4
CH – 3014 Bern
Phone: (+41)313351212
Reservation contact
Reservations Department – Mr. Alan Stähli
Room-Reservation per e-mail to: h5049@accor.comwith keyword Euro-League 5 Kegel Billard
Price per night breakfast NOT included:
93.00 CHF (single & double room)
These prices are only valid if you book until the 27.08.2018, and with the above mentioned keyword
EURO-LEAGUE 5 KEGEL BILLARD
Distance from Hotel to the Tournament Place : approx. 1.7 kms
No registrations for the moment