Coupe d'Europe 5-Pins Club Teams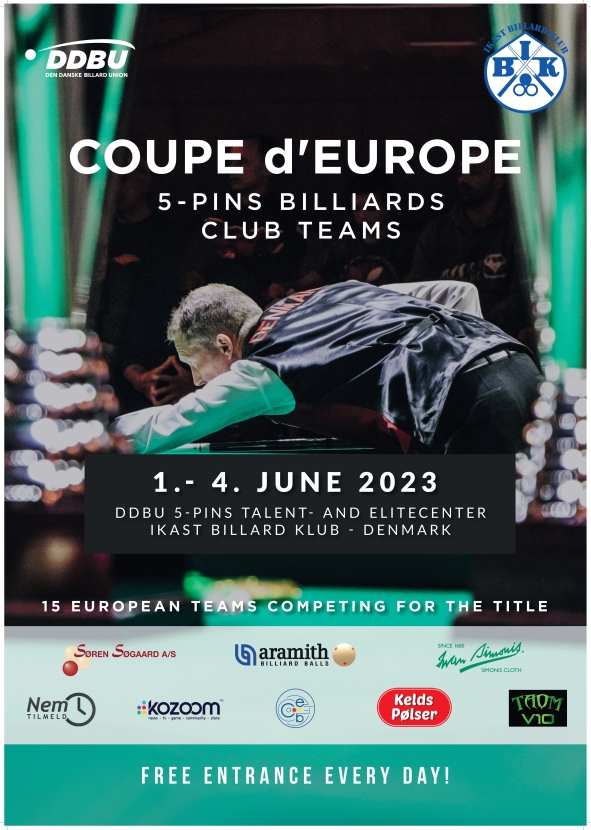 Delegate
GARAVAGLIA Luca marzio
Event dates
01-06-2023 00:00 - 04-06-2023 23:59
Registration dates
13-03-2023 00:00 - 07-05-2023 23:59
Dresscode
DRESS CODE B. (See art. 19/20 of CEB Basic Concepts)
Dress code B: black shoes, black socks, black suit trousers. A long sleeved polo shirt. The polo shirt must be worn inside the trousers and it's forbidden to roll up the sleeves, it must be clean and in good conditions. For women a polo shirt can be outside trousers, but no body skin should be visible. It is not allowed to wear trousers with studs/chains, side pockets below the thigh, jeans and denim/blue jeans, corduroy material, leather, which have been fashioned in a "jeans style". Shoes: Black dress shoes such as leather are permitted. Sports shoes can be of any leather or cloth material but they must be all black, no white or coloured soles/logos allowed. Socks/tights must be worn and of a dark colour, no skin should be visible on the legs/ankles. Shoes must be clean and in good condition.
Material
Simonis Laser 3.0
Balls
Super Aramith Pro-Cup Prestige
Registrations
**Registration deadline is postponed by 1 week: new deadline May 7th.
By National Federations. Max 16 participants.
Inscriptions will be considered according to the following priorities:
1. Team of the Title Holder federation Team Title Holder
2. Team Representative of the organizer.
3. Teams registered as first by each federation
4. B-Team from federation of the title holder
5. B-Team from organizing federation.
6. B-Team from other federations following the last CEB European Ranking Teams.
7. C-Team from federations following the priorities of points 5. And 6.
8. Teams from the Organizer if needed to complete the list of 16 teams
Permissions to play for foreign players:
Peter Kainberger (Germany-DBU): permission for BC Elite Wien (Austria)
Maxime Jublot (France-FFB): permission for DOS Roeselare (Belgium)
Fabio Gaiotti (Italy-FISBB): permission for BC Elite Wien (Austria)
Kim Henriksen (Denmark-DDBU): permission for DOS Roeselare (Belgium)
Placed sportsmen
Title Holder: BC Fribourg (CH)
Location
Ikast Billard Klub - DDBU´s Talent and Elitecenter for 5-Pins
Informations
TOURNAMENT PLACE ADDRESS:
IKAST BK - DDBU´s Talent and Elitecenter for 5-Pins
Sverigesgade 5
DK – 7430 IKAST
Denmark
Tel: 00 45 53611975 Email: klok@me.com
Food and beverages available at the club bar, please note that normally the payment is in Danish Crowns (DKR)
BILLIARD TABLES:
No. 4 International Match Tables 284x142 for 5-pins disciplines 2 Pool and 2 Skomar tables
CLOTHS:
Simonis Laser 3.0 cloth –> cloth for cushion Simonis 330
BALLS
Super Aramith Pro-Cup Prestige
LOCAL CONTACTS:
OVERALL RESPONSIBLE
Mr. Torsten Danielsson
Mobile: +45 53 80 1133
Email: formand@ddbu.dk

LOCAL CONTACT AND TOURNAMENT DIRECTOR
Mr. MIchael Klok
Mobile: + 45 5361 1975 Email: klok@me.com
Hotel
Bed and no breakfast
Tel: +4540967482
Mail: ibnob@outlook.d​k
Price per night breakfast included:
300- dkr Single room (40€ approx)
500- dkr Double room (67€ approx)
Distance from Player Hotel to the Tournament Place:
750 m
Hotel Medi
Tel: +4597151944
Mail: info@hotel-medi.dk
For reservations use Booking.com website.
Distance from Player Hotel to the Tournament Place:
600 m
Hotel Ikast
Tel:+4520135156
Mail: Info@hotel-ikast.com
300- dkr single room (40€ approx)
450- dkr double room (60€ approx)
600- dkr triple room (80€ approx)
625 dkr famile room (84€ approx)
Distance from Player Hotel to the Tournament Place:
1300 m
Team
Registration
Status
Position
Team
Status
Comment
1
CMO Morangis
DUVERNOY Christophe 1
GUERIN Xavier 2
GUINGAND Florian 3
VICARI Marc 4
ROUBY Guillaume Reserve 5
LE COAT Thomas Reserve 6
MOREL Pierre yves Reserve 7
REVERCHON Jean Reserve 8
2
Rouen Billard Club
FONTAINE Yann 1
JUBLOT Denis 2
ROBERGE Bruno 3
LEGENDRE Nathan 4
3
KNBB
DRIESSEN Ernst-jan 1
DRIESSEN Ernst 2
JALVING Brian 3
KROONEN Marius 4
4
Ikast BK
KRISTOFFERSEN Kasper 1
SJORUP Erling 2
PEDERSEN Johnni 3
SOENDERBY Christian soenderby 4
NIELSEN Lars Reserve 5
5
Næstved BK
ANDERSEN Thomas 1
SOENDERGAARD Henrik 2
SOENDERGAARD Jonas 3
JAEGER Thomas 4
PIND Oliver Reserve 5
6
BK Grøndal
KAMPE Rune 1
RYHOLT Henrik 2
TAFDRUP Tejs 3
HENDRIKSEN Rene 4
MIKKELSEN Michael Reserve 5
7
Randers BK
KLAUSEN Tobias 1
RASMUSSEN Ib 2
ANDERSEN Per 3
SCHAEFER Joern 4
SCHACK Jan Reserve 5
8
SKD
RAAGNER Jonas 1
OLSEN Lars 2
ANDERSEN Rene 3
RASMUSSEN Christian 4
9
Ikast BK 2
NIELSEN Steen 1
FENGER Birger 2
SOERENSEN Henrik 3
EMBORG Michael 4
FRANSEN Ole moeller Reserve 5
10
WBA
MAKIK Karl 1
SEDLAK Herbert 2
RUPPERT Franz 3
HASELSTEINER Thomas 4
VAVRA Martin Reserve 5
SCHOLZE Petra Reserve 6
11
1. FRIESACKER BC
GABEL Max 1
SCHOCK Christopher 2
MALTZAHN Martin 3
TRIMIGNO Mirco 4
BERNER Marco Reserve 5
12
Billiard club Kladno
DVORACEK Vaclav 1
TRUHLAR Jan 2
PECHMAN Vit 3
KURECKOVA Adela 4
PECHMAN Jiri Reserve 5
13
DOS Roeselare
HENDRIKSEN Kim 1
JUBLOT Maxime 2
MEMMI Gianluca 3
DEBAES Peter 4
LEYN Philippe Reserve 5
ENGELBOS Patrick Reserve 6
HOETHAEVE Jean-marie Reserve 7
14
BC Elite Wien
GAIOTTI Fabio 1
FELSER Andreas 2
KAINBERGER Peter 3
BAHARYAN Aschot 4
SCHACHNER Hubert Reserve 5
15
TJ Bižuterie Jablonec nad Nisou
HUDAK Jan 1
SVOBODA Pavel 2
WOLF Robert 3
FEL Jozef 4
Group
Position
Team
Level
B
1
2
3
4

1. FRIESACKER BC
Ikast BK 2
BC Elite Wien
BK Grøndal

C
1
2
3
4

CMO Morangis
Billiard club Kladno
Randers BK
DOS Roeselare

D
1
2
3
4

Ikast BK
Rouen Billard Club
KNBB
TJ Bižuterie Jablonec nad Nisou