World Championship 3C National Teams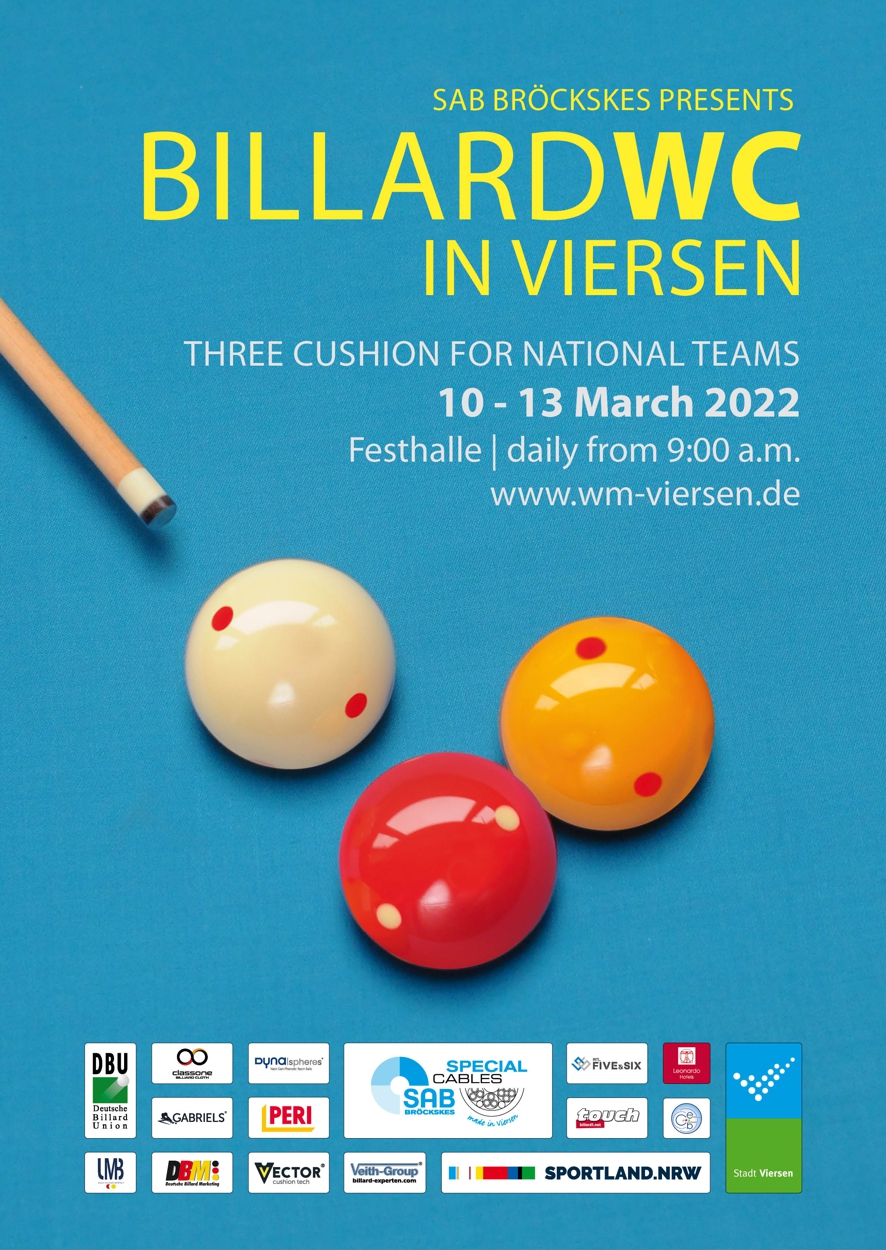 Organized by
Deutsche Billard-Union
Event dates
10-03-2022 00:00 - 13-03-2022 00:00
Registration dates
13-01-2022 00:00 - 31-01-2022 23:59
Registrations
By National Federation to CEB.
Nations reference ranking: European Championship 3C Nat. Teams 2020 - Antalya
Spain - Turkey - France - Denmark - Belgium - The Netherlands - Greece - Sweden - Czech Rep. - Italy - Austria - Germany - Portugal - Switzerland - Croatia.
6 places for CEB Federations + Seeded Nations (Turkey, Germany).
Each Federation has the right to present one team. No B-Teams are allowed.

Kindly register teams with reserve players.
In case of needs of Invitation Letters/Visa kindly request to UMB/Organizer as soon as possible.
Consult UMB General Information for Entry Procedures/Visa/Covid procedures.
DISCLAIMER
Although the risk of cancellation of these events, in these COVID-19 times, is almost neglectable, CEB nor the organizers assume any liability and cannot be held responsible for any costs or damages, concerning the booking of flights and accommodation or other, related to the participation to these events. It is the sole responsibility of the traveler/participant to be properly insured.
Placed sportsmen
Turkey (World Champion)
Germany (Organizing Federation)
Location
Festhalle Viersen
Address
Hermann-Hülser-Platz
Informations
Airport: Düsseldorf Distance 25 km to Hotel
Transfer: By Train Station Mönchengladbach
Use this form for reservations: Hotel Reservations
Hotel Reservation deadline is 4th February, 2022. Kindly strictly respect the deadline and reserve rooms using the published forms.
Team
Registration
Status
Position
Team
Status
Comment
1
TUR1
TASDEMIR Tayfun 1
CAPAK Can 2
CENET Lütfi Reserve 3
ORAK Turgay Reserve 4
World Champion
2
GER1
HORN Martin 1
LINDEMANN Ronny 2
KARACA Cengiz Reserve 3
JAESCHKE Dustin Reserve 4
Organizing Federation
3
SPA1
SANCHEZ Daniel 1
LEGAZPI Ruben 2
JIMENEZ Sergio Reserve 3
CRESPO Carlos Reserve 4
4
FRA1
DEVOGELAERE Mikaël 1
PANAIA Maxime 2
LE DEVENTEC Gregory Reserve 3
MELNYTSCHENKO Cédric Reserve 4
5
DEN1
NELIN Dion 1
SORENSEN Jacop 2
CARLSEN Tonny Reserve 3
6
BEL1
MERCKX Eddy 1
CEULEMANS Peter 2
FORTHOMME Roland Reserve 3
FORTON Francis Reserve 4
7
NET1
JASPERS Dick 1
BURGMAN Raimond 2
JORISSEN Jeffrey Reserve 3
CHRISTIANI Dave Reserve 4
8
GRE1
POLYCHRONOPOULOS Nikos 1
KOKKORIS Kostantinos 2
TSOKANTAS Dionisis Reserve 3
Reserve 1
CZE1
BOHAC Martin 1
GAZDOS Ivo 2
NOVAK Radek Reserve 3
HAJEK Radovan Reserve 4
Reserve
Reserve 1
Reserve 2
AUS1
KAHOFER Arnim 1
KOGELBAUER Nikolaus 2
KOSTISTANSKY Gerhard Reserve 3
SZIVACZ Herbert Reserve 4
MÜLLER Manfred Reserve 5
Reserve
Reserve 2
Reserve 3
SWI1
BEHZAT Cetin 1
CANTURK Kenan 2
WASER Gregor Reserve 3
Reserve
Reserve 3