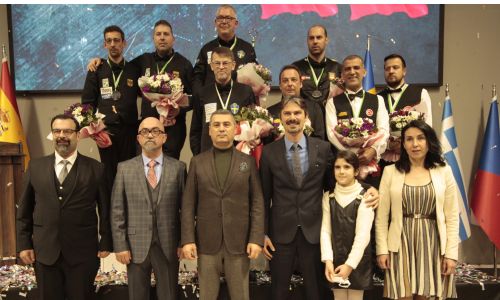 02/19/2022
The European Championship 3-Cushion National Teams ended today in Ankara, in the new headquarters of Turkish Billiards Federations.
20 national teams representing 13 CEB federations started on Thursday divided in 7 groups.
The 7 finalist group winners were Spain 1, Turkey 1, Sweden 1, Belgium 1, Spain 2, Germany 1, Greece 1.
Turkey 2 was qualified as the best second.
In three out of four quarter finals a scotch double extension was needed to decide the winners after the draws of the regular single matches. Only the Spanish team with Sanchez and Legazpi got a full victory on compatriotes of Spain 2 (Montes & Jimenez). In the scotch double extensions, German team (Lindemann & Karaca) eliminated one of the favorite teams for the final victory, Belgium (Merckx & P. Ceulemans). Sweden (Blomdahl & Nilsson) had the better of Greece (Polychronopoulos & Kokkoris). And finally in an all-Turkish battle Turkey 1 (Tasdemir & Cenet) won against Turkey 2 (Capak & Orak).
In the first semifinal (Spain vs Germany) Sanchez won easily against Lindemann (40-15 in 19 innings) while Karaca got the better of Legazpi in an hard-fought match (40-35 in 35 innings) making a tie-break scotch double set necessary. This tie-break was an heart-breaking one and Germany finally surprisingly put an end to the hopes of the title holders by winning 15-14 and gaining the first ticket to the final.
In the second semifinal the Swedish team had a clear victory on the Turkish duo with two wins by Blomdahl and Nilsson against Tasdemir (40-33 in 16) and Cenet (40-33 in 26) closing the chances of the home champions to play the final.
The final match saw the revelation team of Germany against a well-known Swedish veteran duo of national teams competitions. Sweden was crowned with gold, thanks to the double victory of Blomdahl and Nilsson for 40-33 and 40-34 against Lindemann and Karaca in 28 and 22 innings.
Spain 1 had the best general average (1,730) and high runs of 15 were made by Eddy Merckx and Tayfun Tasdemir.

Back