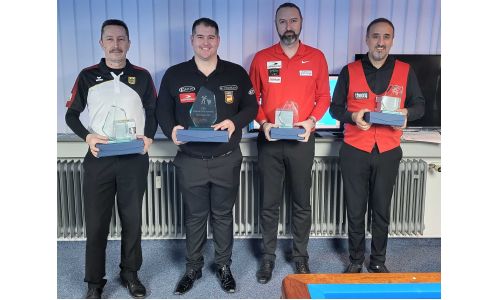 12/01/2022
Sunday December 4th updates:
After four days of spectacular competition the current European Champion Hector Cuadrado (Spain) put his name on top of the final standings.
He qualified as number 9 from the qualification round and then battled hard in his road to the final victory winning four match in a row: the 1/8 finals against Marvin Heinrich, the 1/4 final against Kevin Tran, the semifinal against Haci Arap Yaman and the final against Thomas Ahrens.
Final standings:
Winner: Hector Cuadrado (Spain).
Runner up: Thomas Ahrens (Germany).
Bronze: Haci Harap Yaman (Turkey) and Michael Hammen (France).
Full statistic and results here.
Thursday December 1st:
The Mannheimer Billardfreunde von 1947 e.V., under the auspices of CEB and DBU, is hosting the Mannheim Grand Prix Artistic, starting from today up to December 4th when the final is scheduled. 35 athletes have signed up for this competition representing France (10), Germany (7), Belgium (4), Hungary (3), Spain (3), Netherlands (3), Turkey (3), Austria (2). They will fight for the ranking points in the CEB Ranking of Artistic billiard.
The European Champion Hector Cuadrado (Spain) is among the competitors.
Group games will go on until the morning of December 3rd up to 56 figures.
1/8 and 1/4 finals will be played in December 3rd. Semifinals and final will close the event on Sunday 4th.
More informations and provisional results here.

Back