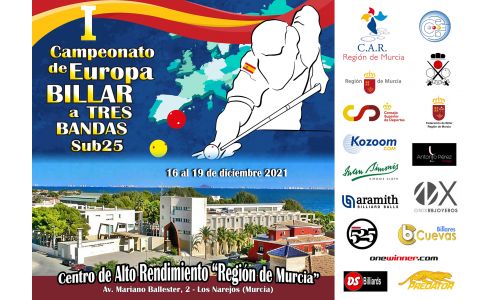 12/15/2021
In the "Centro de Alto Rendimiento" in Los Alcazares (Murcia, Spain) everything is ready for this brand new competition organized by the Real Federacion Espagñola de Billar under the auspices of CEB.
CEB, RFEB, and many National Federations greatly wanted to reward young players that, due to the pandemic, missed their last chances to compete in their age reserved championships. This opportunity is also about improving youth activities and aimed to create an intermediate step between youth and adult competitions. We all want this new EC to be the first in a long series.
The field of participants shows the best young European talents and promises an exciting tournament.
32 players are expected to join, divided into 8 groups of 4. The first two of each group will advance to the eighth-finals and will go on in a direct elimination tree.
12 National Federations represented are Spain, France, Germany (4 players each), Denmark, The Netherlands, Turkey (3 players each), Austria, Belgium, Greece, Italy, Portugal (2 players each), Luxembourg (1 player).
Initially planned for 24 participants, as a consequence of the high number of registrations the organisers decided at the last minute to extend the format, the number of participants, and the number of tables to allow the maximum number of players to join.
SCHEDULE.
Players will arrive in the CAR on Thursday 16th and will have a training time.
Group games will start from Friday 17th morning to Saturday 18th morning.
Direct elimination rounds will take place on Saturday at 14:30 (1/8) and 18:00 (1/4). Semifinals are scheduled for Sunday 19th, 9:00 and 11:30. The final at 15:00.
Player list and groups are published on the CEB information page and results will be updated during the competition:
Kozoom will broadcast the competition for Premium Pass holders.

Back