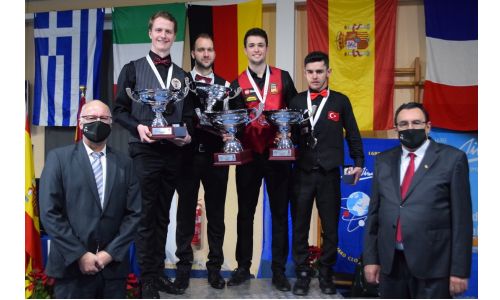 12/19/2021
The first edition of the new European Championship 3C U25 ended with a victory for a home player: the young Spanish talent Ivan Mayor bagged the gold medal.
Silver medal goes to Mustafa Kilic from Turkey. Bronze medal for Stef Van Hees (Belgium) and Nikolaus Kogelbauer (Austria).
There were plenty of surprises in this tournament where most of the main favourites were eliminated in the KO rounds.
Representatives from France (Maxime Panaia), Germany (Simon Blondeel), Italy (Alessio D'Agata) and one more from Spain (Daniel Peńa) went home in quarter finals.
Both best average and best match of the tournament were achieved by the Frenchman Gwendal Marechal, one of the favourites (1,380 - 3,000) who was eliminated in eighth finals by his countryman Panaia. High runs of 10 were made by Mayor, Marechal, Criscino.

Back